One wonders what Genting Berhad (GENT MK) – the Malaysia Holding Company of one of Southeast Asia's largest gaming companies – has to do with a pharmaceutical company, TauRx Pharmaceuticals Ltd (TauRx). Plenty of chips it seems.
Genting Berhad has a RM480m strategic investment stake in TauRx, coming in as the largest shareholder with a significant 20.7% equity stake. The share price of Genting Berhad has risen more than 10% in the past week as TauRx prepares to announce results of its Phase III trials of its experimental Alzheimer's drug, LMTX.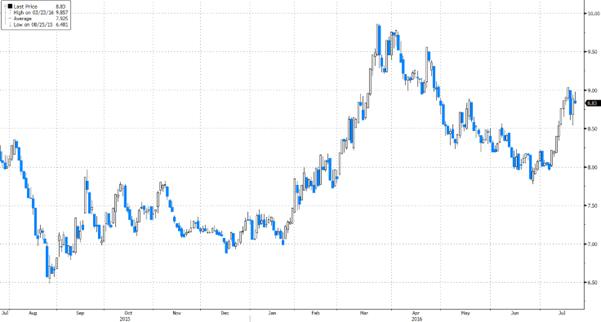 Source: Bloomberg
About TauRx Pharmaceuticals Ltd
TauRx is a pharmaceutical firm that develops new treatments for Alzheimer's disease. Its research focused mainly on Tau-proteins tangles in the brain which lead to brain abnormalities. It aims to come out with new drugs to slow the progression and halt further memory decline for Alzheimer's patients. Previous research on Alzeimer's disease focused on Amyloid beta plaques and this has yielded mixed results
D-Day: 27 July 2016
On 27 July, TauRx is expected to present on the results of two out of its three Phase III trial studies on theupcoming Alzheimer's Association International Conference. Previously, the mid-stage trials for TauRx displayed cognitive benefits to patients taking the drug for 24 and 50 weeks, although the highest dosage failed to produce the same positive results. The high dosage could be due to natural limitations of a conversion process in the glut. A new version of the drug called LMTX was used in the Phase 3 trials.
Huge market for Alzheimer's Disease
It is estimated that more than 40 million people are living with Alzheimer's disease and dementia. GBI Research estimates that the market for Alzheimer's Disease therapies has the potential to expand from US$5.2bn in 2014 to US$11.3bn in 2021. A cure for Alzheimer's Disease has so far proven elusive, despite it being one of the top research focus of major pharmaceutical companies. Existing drugs that treat Alzheimer's disease only offer a transient boost to the mental functions. TauRx hopes to come out with a drug that targets the disease directly. Tim Earle, COO of TauRx, claimed the market potential for the first Alzheimer's treatment that targets the disease could be more than US$10bn sales annually. Promising results might lead to tie-ups with large pharmaceutical companies to distribute its drug. Other options could also be a trade sale or a potential listing in the US.
Huge upside for Genting Berhad with a successful Phase III result
Successful trials would lead to a windfall for TauRx's shareholders. A successful Phase III test results may add RM$2.55 to current Genting Berhad share price of RM$8.90 with an assumption of US$15bn valuation for Taurx (according to Maybank Research). This will present significant upside potential to current share price.

Stirling Fort Capital is the Fund Manager of Catalyst Stirling Fort Pharma Fund SPC, which has recently invested an equity stake in TauRx Pharmaceuticals Ltd.Disclosure:
Best regards
Elwyn Chan, CAIA
————————————–
CEO, Stirling Fort Capital Pte Ltd
391A Orchard Road #08-07 Ngee Ann City Tower A S238873
(A Registered Fund Management Company with MAS)
Patron, Bukit Timah Town Council