Landed properties only consist of 1.5 per cent of the total housing stock in Singapore. Only Singaporeans are allowed to own landed properties in Singapore and due to the limited land space in Singapore, landed properties are seen as extremely valuable. In fact, landed property price growth has outpaced non-landed property prices for the last decade.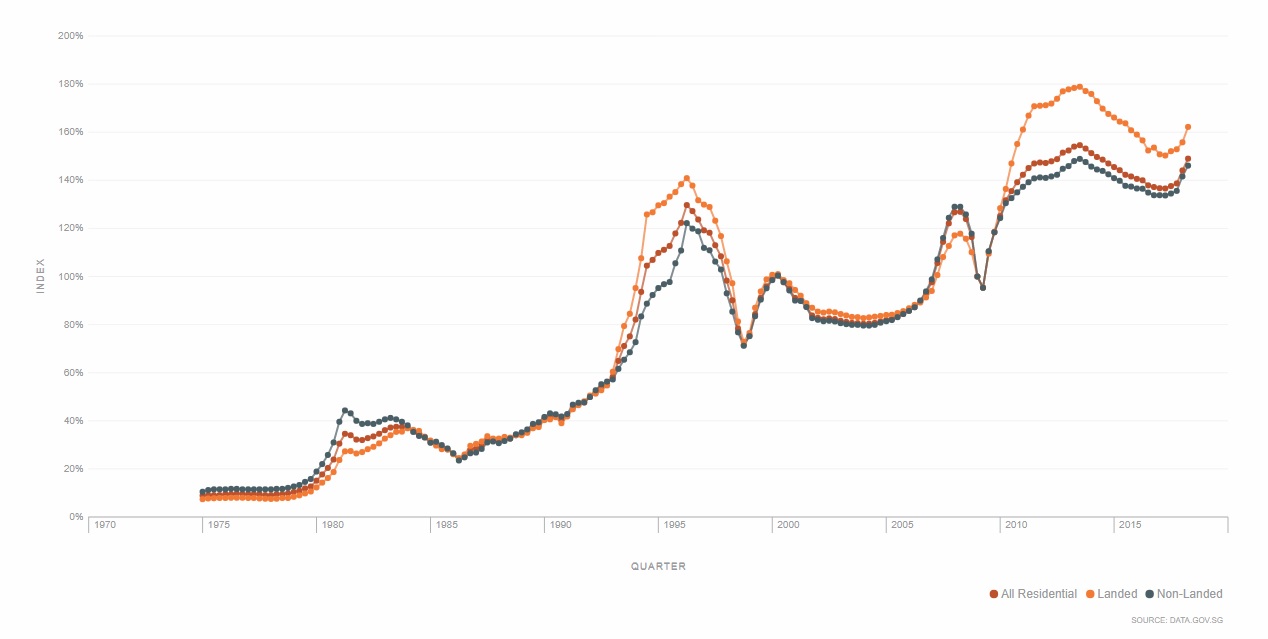 Most landed properties in Singapore sit on freehold land. In fact, only about 10 per cent of landed properties is leasehold.
Landed properties are now seen as extremely valuable and only households with high income can afford to purchase a landed property in today's market. A brand new 3-storey intermediate terrace in areas like Serangoon can cost anywhere from $3,000,000 onwards. Here is a breakdown of what it would cost to purchase such a landed property. Certain assumptions were made in this calculation.
Purchase Price: $3,000,000
25% Downpayment: $750,000
Stamp Duty (assuming this is the only property): $104,600
Total Cash and CPF required for Downpayment and Stamp Duty: $854,600
Loan Amount: $2,250,000
Loan Tenure: 25 years (Assuming the average age of the borrowers is 35)
Loan Interest Rate: 2%
Instalment per month: $9,536.72
As you can see, forking out almost $10,000 a month on instalments on a property is not something every household can easily afford. This is the reason why landed property owners are usually the highest income earners or are usually in the top wealth bracket in Singapore.
To many, owning a landed property in Singapore is the ultimate goal. As land becomes more scarce, we have been seeing more subdivision of larger plots of land to become multiple units of landed properties. In recent times, there have been more developers building strata landed properties. In this article, we will list out some main characteristics of both landed houses as well as strata landed and we will list out the pros and cons to help you decide which is better.
Landed Houses
There are a few types of landed houses. They can be categorised into intermediate terrace, semi-detached and detached houses. The key characteristic of these properties is that the plot of land which the house sits on is owned by the owner of the property. There are restrictions to the number of levels and how high the property can be built. These restrictions are listed on the Master Plan on the Urban Redevelopment Authority's (URA) website.
Here are some advantages to owning a landed house
1) You own your own land
Every parcel of land in Singapore has a code. A mukim and a lot number. For landed houses, if you own the property, you are the sole owner of that individual land parcel. You can decide how you would like to build your property so long as it is within the various guidelines and you are free to sell your property on that land parcel in its entirety.
2) You can decide how you want to renovate your property
So long as you adhere to the guidelines set aside by the URA, you are free to renovate your property in any way you deem fit. You can change the colour of the facade, install a swimming pool or lift, change the colour of the windows or install retractable awnings just to name a few. Unlike a condominium or an HDB flat, you do not have to conform to the external facade of the building nor do you have to seek approval from the management or town council when wanting to renovate your property.
3) You do not have to pay monthly maintenance fees
Maintenance fees in condominiums are getting rather high. In many cases, condominium owners can be paying $300 or more a month for their monthly maintenance fees. Landed house owners do not pay monthly maintenance fees. The only fees that they pay monthly are their electrical and water bills as well as the waste collection fees. These fees are also paid by owners of other property types.
4) Parking is free
Landed house owners can park their vehicles in their car porch. Depending on the size of their land, they can park multiple cars in their driveway. In many cases, there should be available curbside parking. This is an added advantage if the property owner has multiple cars or when visitors come over to visit.
5) There is no restriction as to how late your guest can stay on your property
In many condominiums, guest vehicles may not be allowed to park on the compound after a certain time. Also, facilities like swimming pools, barbeque pits, gyms and function rooms have operating hours. If you are the owner of your own landed house, you can incorporate a swimming pool, have a barbeque pit or have a home gym and you can make use of all these at any time you deem fit, so long as they do not cause disturbance to the neighbourhood.
6) Space is usually larger
A typical intermediate terrace is usually larger than a strata landed property in terms of the built-up space of the property. Typically, strata landed properties struggle to fit a room on the ground level or have family areas on subsequent levels. The rooms in a typical landed property are also usually larger.
Here are some disadvantages to owning a landed property.
1) Maintenance can be expensive
Yes, you do not have to fork out monthly maintenance charges as a condominium or strata landed. However, the cost to repair the property can come up to tens of thousands if you are faced with issues like leaks. Erecting a scaffold and painting the external facade of a landed property would already cost the owner a five-figure sum. Inevitably the property will age and cracks and damages will accumulate. Rectifying these issues is not cheap and can be a hassle.
2) Security
Unlike a condominium or strata landed, there is no security for landed properties. Granted that Singapore is a safe country, there is still crime and occasional break-ins. Landed property owners are responsible for ensuring that their property is secure. Security cameras and additional locks are common security features of landed properties.
3) No facilities
Even though some landed properties are built with swimming pools and have a dedicated room for a gym, this is usually an exception rather than the norm. Due to the cost of maintenance and the hassle to upkeep, swimming pools and gyms are usually found in strata properties as all the stakeholders can pool their monies together to pay for the monthly maintenance of the facilities.
Strata Landed
Strata Landed properties are multiple landed properties on a plot of land whereby the owners of the individual units do not own the land but instead have a share of the whole plot of land together with each other. Strata Landed properties can be multiple strata landed units in the same plot of land, an example would be Belgravia Green, or they can be landed properties in a condominium development like Kent Ridge Hill Residences.
Here are some advantages to owning a strata landed.
1) Maintenance is taken care of
Just like a typical condominium, owners of strata landed properties pay a monthly maintenance fee and contribute to a sinking fund. There is a management committee and matters are voted upon at general meetings. As there is a pool of monies that are set aside by all stakeholders of the development, the management can use this money to upkeep the development.
2) There are usually common facilities
There should be a swimming pool and perhaps a gym. If the development is large enough, there may be other facilities as well. The number of facilities depends on the size of the development as the maintenance cost for these facilities is shared among the owners.
3) Security is taken care of
There is usually, at the bare minimum, security access gates for vehicles and residents to pass through. If the development is large enough, security guards can be hired. In condominium developments with strata landed units, the owners of the strata landed properties enjoy both the facilities and the security of a condominium together with the space of a landed property.
Here are the disadvantages of owning a strata landed.
1) You do not own the land
Unlike a typical landed property, owners of strata landed properties do not own the land that their property sits on. Instead, they own a share of the overall land which the development sits on.
2) Maintenance fees can be very high
Due to the fact that there are usually very few strata landed properties in one development, the cost of maintenance has to be shared by a smaller number of residents. This, in turn, means that each of the residents will have to fork out a larger amount of money as maintenance fees and to the sinking fund.
3) Restrictions in condominiums may apply to strata landed
As strata landed is basically a strata development like a typical condominium, there may be rules regarding the timing of use of certain common facilities. For example, the swimming pool, gym and barbeque pits may be closed after a certain time.
4) There is limited parking
Yes, there is the availability of curbside parking around the vicinity of strata landed properties but due to the fact that strata developments are more densely congested than typical landed properties, there may be an issue during festive seasons like Chinese New Year.
5) Cannot sell to foreigners
Landed properties can only be sold to Singapore citizens. It is extremely rare for foreigners or even permanent residents to get approval to purchase a landed property. Thus the pool of buyers for a landed property is significantly smaller than a condominium. A typical landed property is one where the owner of the property owns the land on which it sits on. However, a strata landed is essentially similar to a condominium as the owners own a share of the land rather than the land outright but yet it is unlike a condominium as it cannot be sold to foreigners. This is something which I have constantly highlighted to clients who have asked me about strata landed.
There is no one better option when it comes to comparing between a typical landed property and a strata landed. All things being equal I would expect a typical landed property to cost more than a strata landed. The main reason is that you own the land in which the property sits on and in a land-scarce city like Singapore, that means that there will gradually be a smaller proportion of Singaporeans that own landed properties as more condominiums are built. I would advise clients that if they can deal with the tedious nature of maintaining their own property then they should get a typical landed property. If they do not mind paying for someone to manage their property for them then they should get a strata landed.
Yours Sincerely,
Daryl Lum
My other articles relating to landed properties
Why you should buy a landed property instead of a condominium
Factors that determine the price of a landed property in Singapore
Should you buy a condominium or a landed property in Singapore?
Buying a Landed Property and Rebuilding it. A Personal Experience.
Guide to landed property in Singapore
Buying a landed property: buy to rebuild, renovate or one that is ready to move in
Is it possible to spend less cash rebuilding a landed property than buying a new condo?
I run monthly landed property workshops. For more information, you can visit landedworkshop.com.