I personally have dealt with Bangkok properties since 2012. I am often asked where are the good locations for property investment in Bangkok. It would be good to take note that Bangkok is an ever-changing city. I travel to the Thai capital a few times every year and I am often amazed by their pace of change. The city is going through some rejuvenation. Old buildings are making way for newer developments and every few months there is a new shopping mall or sky bridge that is completed. In my analysis of where to buy properties in Bangkok, I will be referring very closely to The System Map of Bangkok Rail Transit Network. Due to the ridiculous amount of traffic congestion in downtown Bangkok, a comprehensive rail network is needed to alleviate this congestion. Fortunately, Bangkok does have a very good rail system.
Only by understanding where downtown Bangkok is, where the Central Business District and growth areas are, can we truly understand the Bangkok property market and make a sound decision. I usually divide the areas into 3 categories:
1) The Core Central Regions
2) The City Fringes
3) The Growth Area
1) The Core Central Regions
This is essentially the Orchard Road, Raffles City and Marina Bay area of Bangkok. As a property investor, we must always be able to identify the most prestigious district in a city. This is where the rich and affluent typically live. It is where there is the highest concentration of expatriates and wealthy individuals.
Siam and Chit Lom
This is where the high-end shopping malls are located.  This is essentially their version of Singapore's Orchard Road. If you were to travel to Bangkok, you would most probably have visited Siam Paragon and CentralWorld. They are Bangkok's answer to Singapore's ION Shopping Mall, Wisma and Ngee Ann City. In Hong Kong's context, this is like the area around Central. On the Rail Transport Network Map, this area is listed as the Rachapprasong Shopping Belt. The people who live in the condominiums in this area are mostly expatriates. You will have no problems finding tenants for your condominium in this area. Siam is also the interchange between two train lines. The light green line is the BTS line running along Sukhumvit Road and the dark green BTS line connects to the rest of Bangkok's Central Business District. One of the most prominent landmarks in the area is the Erawan Shrine.
Wireless Road and the area around Lumpini Park
Wireless Road is where the wealthiest people in Bangkok live. It is by far the most expensive and exclusive area in Bangkok. To make reference to Singapore once again, think of this as the Ardmore or Claymore area in Bangkok. To Hong Kong, this is Bangkok's version of The Peak. The properties in this area are extremely upscale. Think of this as Bangkok's 5th Avenue. Wireless Road was the location of Bangkok's first radio station. This location was chosen because it was right at the heart of the capital. This was how the street got its name. Coincidentally, Wireless Road is also Bangkok's only street with buried cables.
Lumpini Park is Bangkok's answer to Central Park. The Lumpini Park is the largest park in downtown Bangkok and occupies 142 acres. It is extremely scenic with artificial lakes and scenic pathways. The park also plays host to concerts on certain Sundays.
Not too far away is The United States Embassy and high-end restaurants like Gaggan. Do not expect the properties to come cheap in this area. Properties in this area are averaging about B300,000 per square meter (or about SGD$1,100 per square foot) and there are cases where certain units were sold for B700,000 per square meter. Rental yields are low in this area as property prices are extremely high and rents cannot keep up. However, many have bought, sold and pocketed healthy profits from the properties in this area. Property prices in this area have appreciated significantly.
The Sathorn area
This is perhaps just an extension of where Lumpini Park is. There are many offices around Sala Daeng BTS. The Silom Night Market is also around this area. If you are looking for a condominium in this area, be prepared to pay a premium. Most of Bangkok's financial institutions and multinational corporations are located in this area. Thus this area is popular with the wealthy locals and the expatriate community. Prices here are a tad cheaper as compared to the ones along Wireless Road though. As a rule of thumb, the properties around here are easy to rent out as there are many offices in the area.
Nana and Asoke
Looking at The System Map of Bangkok Rail Transit Network, you will see that the Rachapprasong Shopping Belt ends at Asoke BTS. Asoke is also the station where you can make the transition from the BTS to the MRT line. For those who are unfamiliar, the BTS is Bangkok's sky train and the MRT line runs underground. The thing about the rail system in Bangkok is that they are run by different operators and thus if you have to come out of the station at Asoke, go down an escalator, buy another ticket to take the MRT from Sukhumvit MRT Station. It is 2 stations located in the same vicinity. This is Bangkok's version of Singapore's City Hall of Hong Kong's Tsim Sha Tsui. If you are looking for connectivity, this location is practically unbeatable. Going from Asoke BTS to Chit Lom and Siam is 3 and 4 BTS stations away respectively. It would take a mere 5-10 minutes to get there. If you take the MRT from Sukhumvit MRT Station, which is next to Asoke BTS, it takes one stop to get to the pink line (Makkasan Station) which takes you to Suvarnabhumi Airport. In future, you will be able to check in at Makkasan station before hopping on the train to the airport.
Properties in this area are usually cheaper than around Siam, Chit Lom and Wireless Road but not by much. It is still an extremely prime area. The downside is that this area has extremely congested traffic. However, I personally like this area. It has an extremely vibrant nightlife and has many shopping centres, 24-hour supermarkets and generally things are marginally cheaper than what you will find at Siam or Chit Lom. This area has perhaps the largest concentration of bars, restaurants and discotheques in downtown Bangkok and Sukhumvit Soi 11 is at the heart of all this activity. In terms of connectivity, nothing comes close to the area around Nana and Asoke BTS.
2) The City Fringes
When we mention city fringes, we tend to mean slightly lower prices for goods and services, less congestion and overall a more desirable residential area. If you are from Singapore, think of this as the Novena, Bukit Merah or Holland Road of Bangkok. If you are from Hong Kong, a place like Ekkamai would be the equivalent of Wan Chai.
Phrom Phong, Thong Lo, Ekkamai, On Nut
Sukhumvit is an extremely long road. Perhaps one of the longest in the world and extends all the way to the Cambodian border. Earlier we spoke about downtown Sukhumvit which is perhaps confined to the lower sois (streets) which ends at about Sukhumvit Soi 19. Thong Lo, Ekkamai and On Nut are located along Sukhumvit as well but at the later Sois. They are a couple of BTS stops after Asoke and will take about 5 to 10 minutes to get to this area. This area is extremely popular with the Japanese expatriate community and they tend to rent in this area. Occupancy rates are high and as the city expands, places like this should see growth in prices.
There is an extremely upscale mall, EM Quartier, that recently started operations. Downtown Bangkok is definitely expanding and due to the massive congestion, fringe places like Phrom Phong, Thong Lo, Ekkamai and On Nut are gaining popularity. In some aspects, Bangkok shopping malls are one of the best in the world.
Asoke and Phetchaburi
It can be a little confusing but these days when you mention Asoke it is the area north of Asoke BTS. From Asoke BTS you can cross over to Sukhumvit MRT Station and take one MRT stop to Phetchaburi or two stops to Phra Ram 9. The government is trying to decentralise the Central Business District (CBD) to alleviate the massive congestion in downtown Bangkok. This is the upcoming new CBD. It is like Jurong being the second CBD in Singapore. However, the location of this area is very close to downtown Sukhumvit. It is just the parallel street north of Sukhumvit. Prices are significantly cheaper in this area and many foreigners are looking at this area for investment opportunities. Many major developers have placed stakes in this area being the new CBD.
Ratchathewi and Victory Monument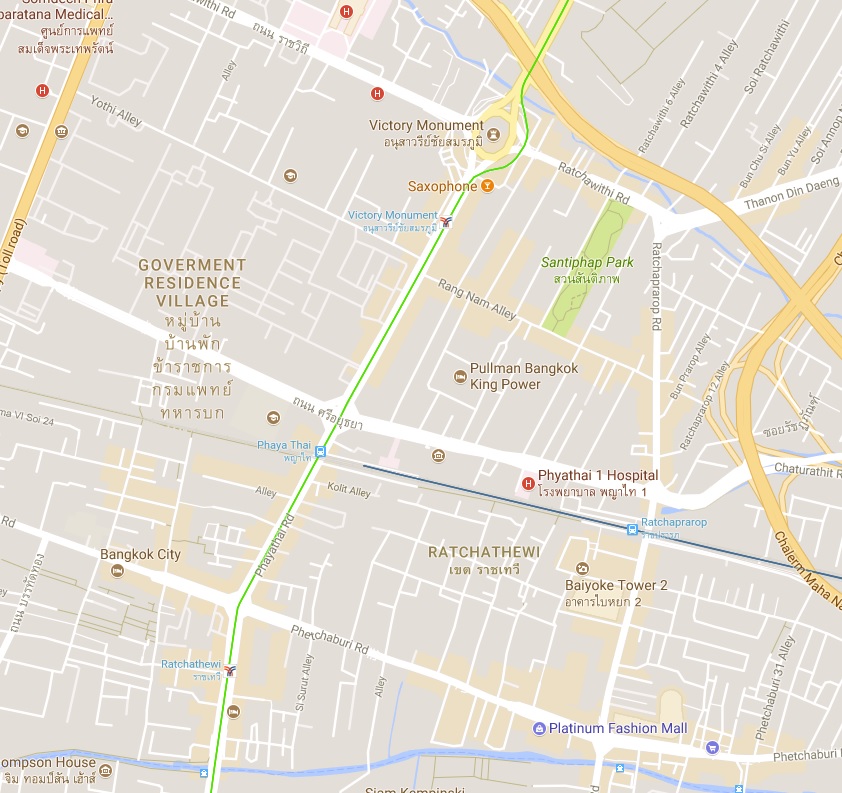 Ratchathewi is extremely well connected. You can access the light green, dark green and pink line. It is just one BTS stop away from Siam. Due to its connectivity, occupancy rates are one of the highest in the area. The whole area is more local. You can still find the occasional expatriate living in the area but it is not as high as in Sukhumvit or Sathorn. The area near Victory Monument is the most desirable residential area around Ratchathewi.
The Riverside
The developments along the Chao Phraya River offer scenic views and thus are extremely desirable as a retirement home. Many foreigners and wealthy locals own properties along the Chao Phraya River. The east side of the river commands higher prices due to it being more accessible to the city centre. Occupancy rates are low in this area as many purchased the properties along the river for retirement purposes. There is a lot of effort in recent times to rejuvenate the area. Asiatique The Riverfront is a very successful example. Transport to this area is via the Saphan Taksin BTS Station, river taxis or regular taxis (not recommended).
3) The Growth Area
These areas are more risky investments. However, fortune may favour the brave. Investors should take a longer-term view when investing in these areas. The good thing about Bangkok is that they usually do go through with their plans. In the grander scheme of things, Thailand is extremely strategically located. It is right in the middle of South East Asia and is also between Singapore and China. The Kunming-Singapore Railway or Pan-Asia Railway Network is a massive project but China is placing its weight on this project. This is where there may be potential in some locations in Bangkok.
Bang Sue and Tao Poon
This area is where the station for the Pan-Asia Railway Network will be located. There are already many developers who have begun developing this area. Earlier this year, the purple line started operations. This connected Tao Poon to the city centre via a more direct train line. Prices here are significantly cheaper as compared to downtown Bangkok.
Mo Chit and Chatuchak
This region is also developing and is very popular among the locals. It is one and two train stops away from Bang Sue. Sales of new projects have been very robust in this area.
Location should not be the only consideration when purchasing a property in Bangkok. There are many other factors to consider like developer's reputation and entry price. However, I do hope that I have managed to shed some light on the various investment locations in Bangkok. I personally have been handling Bangkok properties since 2012 and I do hope that my experience can be of use to anyone looking to invest in Bangkok properties. You may visit my Invest Bangkok Property web portal at InvestBangkokProperty.com. I am contactable via my mobile number +66 66 112 8862 (WhatsApp preferred) or via my email me@daryllum.com.
Yours Sincerely,
Daryl Lum
Related Articles:
A compelling case to invest in Bangkok
My personal experience purchasing a property in Bangkok
Thailand as a retirement destination
How to get a Retirement Visa in Thailand
Guide to buying a property in Thailand
Related Sites:
[Update] Where to invest in Bangkok video on Invest Bangkok Property YouTube Channel