Clients often ask me where is the best location for property investment in Bangkok. I often tell them that if you are looking for a property in central Bangkok, you can do no better than properties around Ploenchit BTS Station. Going back in history, when Bangkok city was being built, the area was surveyed and it was found that the Wireless Road was the most central part of Bangkok. The name Wireless Road stems from the fact that the first broadcasting station was set up along that road. Thus historically and geographically, Wireless Road is the most central part of Bangkok. In this blog post, I will be discussing two projects. Noble Ploenchit by Noble Development and 98 Wireless by Sansiri. Both developers are well-known developers listed on the Stock Exchange of Thailand.
Details about the developments
Noble Ploenchit is a freehold development located right next to Ploenchit BTS Station. It is currently Noble Development's flagship project. It comprises of 1,444 units made up of 4 towers. Residential towers A, B and C and 14, 51 and 45 storeys respectively and commercial tower D is 4 storeys. The total land that the development sits on is approximately 9 rai or 14,400square meters or approximately 155,001 square feet. Unit mix includes 1, 2, 3 bedrooms and penthouses. Facilities include sky gardens, sky lounges, a 45-meter swimming pool, children's pool, a fitness room, multipurpose room and steam and sauna rooms.
98 Wireless is a freehold development located approximately 5 minutes away from Ploenchit BTS Station. It is located along the main Wireless Road and is right next to the US Ambassador's residence. 98 Wireless is Sansiri's flagship project and is the most expensive and prestigious condominium in the whole of Bangkok. There are 77-units in the development. There are two and three bedrooms and then there is the super-penthouse aptly named "The One" which occupies the two highest levels of 98 Wireless. 98 Wireless comes with the usual facilities like a swimming pool and gyms but also has unique facilities like a state lounge for business, a Wittayu Tea Room, Ploenjit Spa and chauffeured limousine service. In fact, residents have access to the limousine service where they will be chauffeured around in a green-coloured Bentley with a 98 number plate.
Where are these developments located?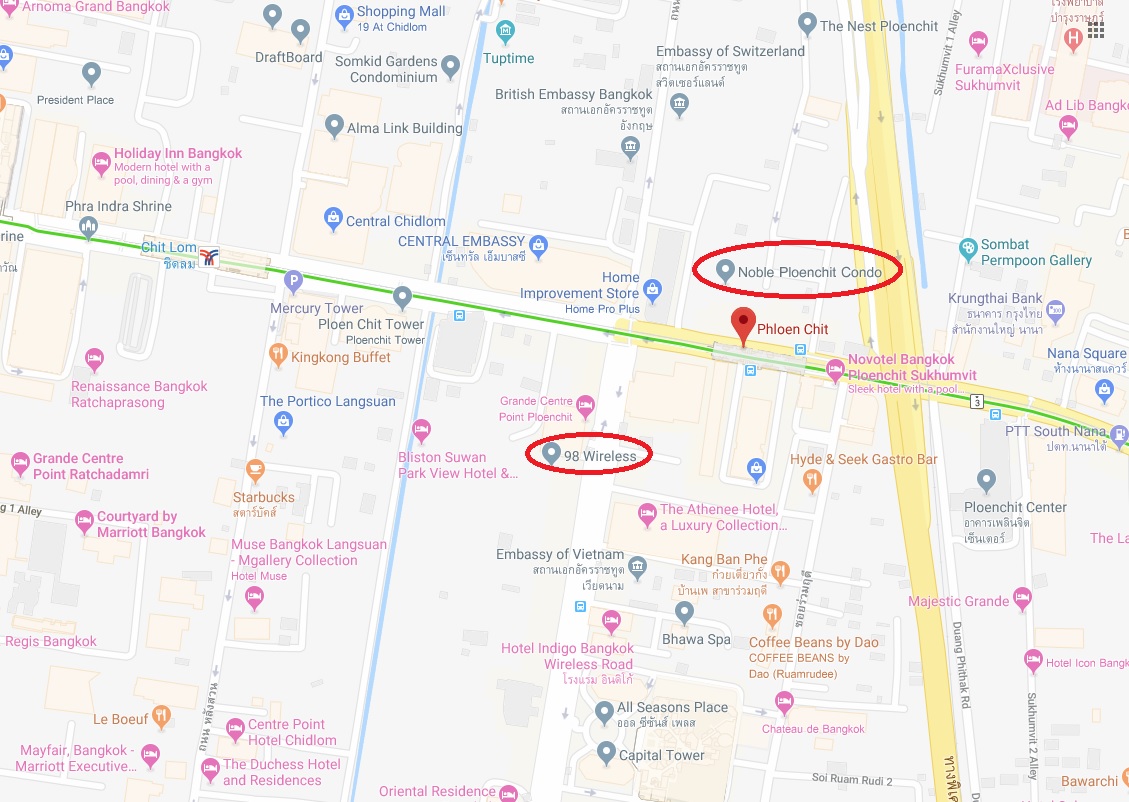 For those who frequent Bangkok often, this station is one station away from Chidlom where Central World is located. Noble Ploenchit is the only condominium in the area to have a direct link bridge linking the development to the BTS train station.
98 Wireless is also located close to Ploenchit BTS Station. It is a 5-minute walk from the station. It is sandwiched between Grande Centre Point Hotel and the US Ambassador's Residence. Diagonally across from 98 Wireless is the US Embassy.
The area around Ploenchit BTS Station is extremely upmarket. This is where the wealthiest individuals live. Central Embassy shopping mall, which is linked to Ploenchit BTS Station, is filled with international luxury brands. Just behind 98 Wireless is The St. Regis Bangkok and The Royal Bangkok Sports Club.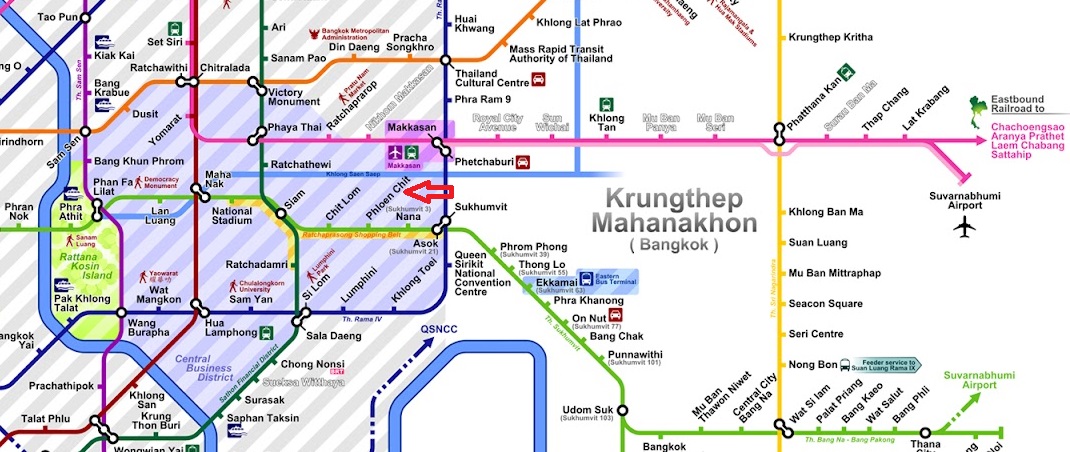 Ploenchit BTS Station is very centrally located. If you are coming from Suvarnabhumi Airport, you could take the Airport Rail Link to Phaya Thai and hop on to the BTS to get to Ploenchit in 4 stations. If you would like to drive or take a taxi, it would take you approximately 26 minutes in non-peak hour traffic.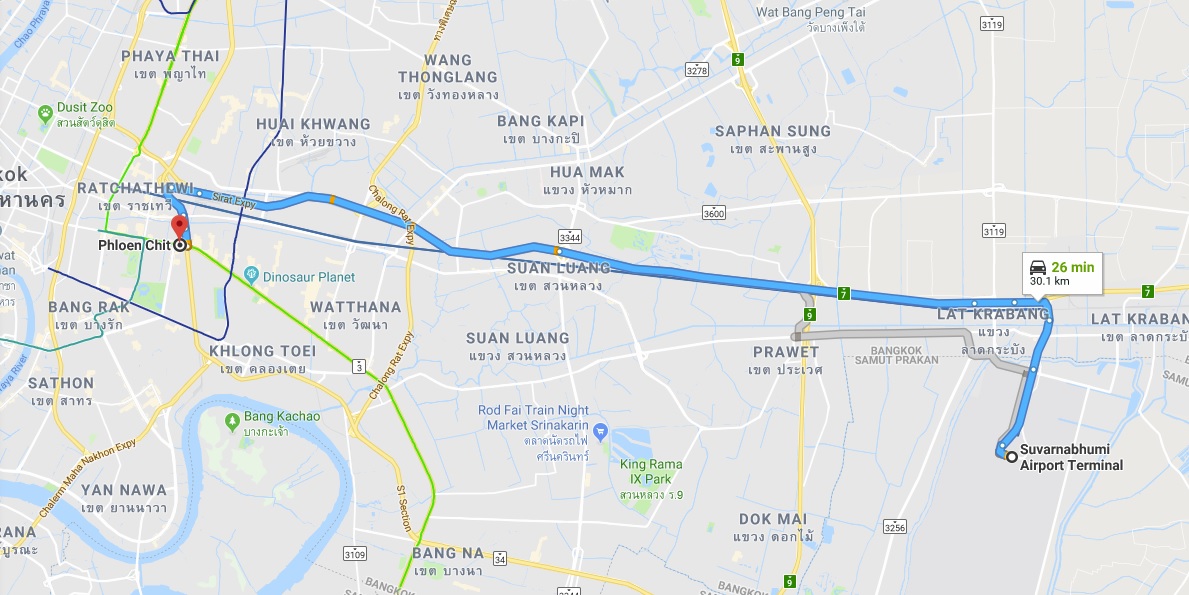 If you are coming from Don Mueang International Airport, it will take you about 19 minutes in non-peak hour traffic to get to the area around Ploenchit BTS via car.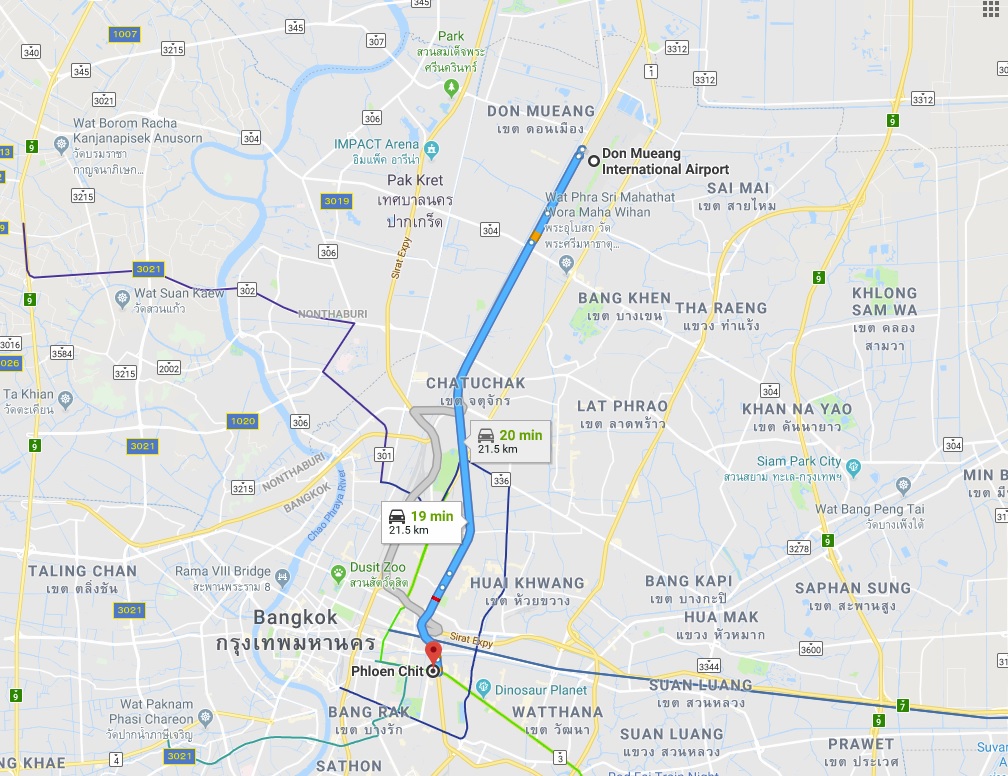 These two condominiums are also close to the Sathorn Financial District or the traditional Central Business District (CBD) of Bangkok. Getting to Sathorn or Silom is extremely convenient. In fact, Silom and Sala Daeng stations are a short distance from Lumpini Park which is located at the end of Wireless Road.
Please note that my timings are obtained from Google Maps during non-peak hours. Peak hour traffic is very bad in central Bangkok and more so along the roads around Ploenchit BTS Station. I would always recommend taking the train in Bangkok and this is why buying a property close to a train station is important in a city like Bangkok.
It would be wise for property investors to note that Wireless Road is an extremely long stretch of road that stretches along both sides of Ploenchit BTS. The road leading to 98 Wireless is the prime stretch with luxury hotels like The Okura Prestige Bangkok and many embassies. This road also leads to Lumpini Park.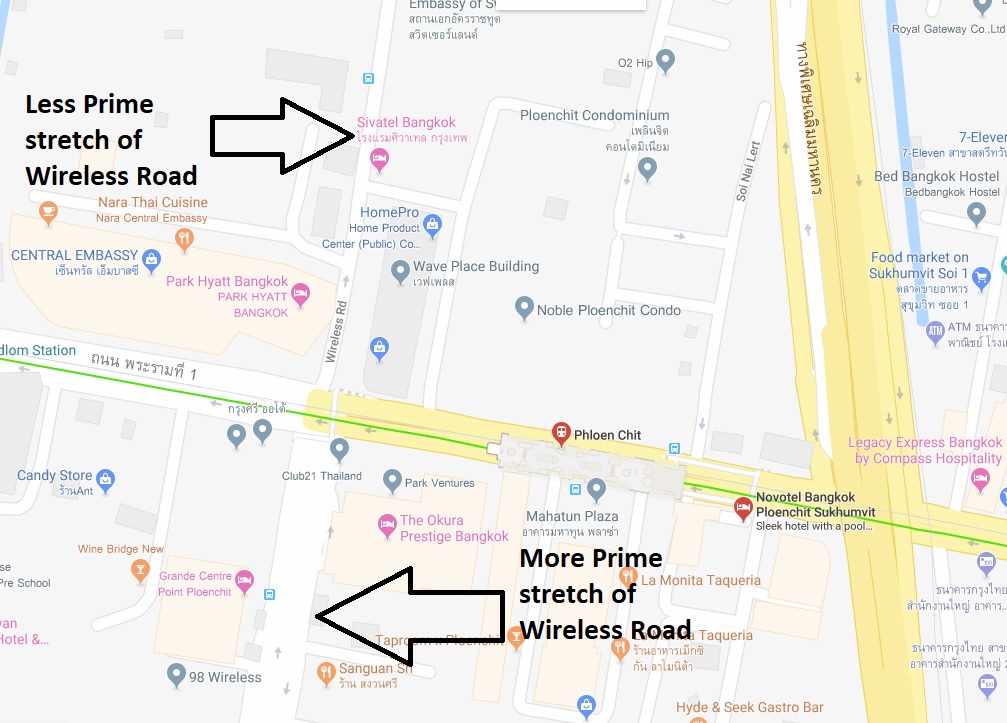 The selling points about the developments
Noble Ploenchit's main selling point would be the location. I do not think that there can be a more centrally located condominium in Bangkok than this. The fact that the residential buildings are hidden behind the commercial building is also a plus. The development seems to undertake a serene setting away from the hustle and bustle of downtown Bangkok once you enter the compound. The development is sitting on a very large plot of land and thus there is a lot of greenery which enhances the overall look and feel of the development. If buyers are looking to purchase a property to rent out, this should be in their consideration. The tenant mix that a development like Noble Ploenchit will attract will be rather wide. The main reason is that the demand will come from all types of tenants if the property is centrally located. The rent collected will be rather high as compared to other parts of Bangkok but then the selling price of units in Noble Ploenchit is also much higher than the rest of Bangkok. A one-bedroom could command approximately THB45,000 to THB60,000 and prices from the developer start from THB 12 million.
98 Wireless's main selling point is its exclusivity. Only the most affluent can afford to live in a place like 98 Wireless. The cost of a 2 bedroom unit starts from USD$2.8 million. In return, the owners are getting a unit furnished with the finest materials. For example, the lobby is filled with Ralph Lauren Home pieces styled by New York-based interior designer Anne Carson. Materials used include flawless Statuario marble and veined Carrara marble from Italy, SieMatic kitchenware and appliances by Gaggenau and Sub-Zero. It is a place for the rich and famous to flaunt their wealth.
My thought about the developments
If I were to pick a property in the whole of Bangkok to place my money in it would be Noble Ploenchit. When it was first launched, buyers remarked that the noise from the BTS Station could be heard from the units once the development was completed. Now that the development is completed and I have personally visited the property, there is no noise from the train station or from the busy road. It feels like an oasis away from the city and yet when you step out, you are right in the heart of Bangkok. Whether for own stay or as an investment property to be rented out, this is a very ideal property. Prices start from THB300,000 per square meter onwards. At launch prices were approximately THB200,000 per square meter. Prices have gone up quite a fair bit from launch but then the overall Bangkok property price has gone up a few notches as well. If you bought a unit for THB12 million and rented it out for THB50,000 per month, that works out to a yield of 5%. The important thing to note is that for a property like Noble Ploenchit, the time to get a tenant is really quick and thus you would expect your unit to be hardly vacant. Units come fully furnished and fully fitted and thus saves the buyer the hassle and money to renovate and furnish the property.
98 Wireless to me is a bit lavish. That being said, it caters to a different type of buyer. If you are looking to purchase a property and are constantly looking at your returns then please look away from 98 Wireless. The development is for the really affluent as a way to cement their status as the rich and famous in Bangkok. 98 Wireless feels more like a piece of art than a property investment. Since prices start at about USD$2.8 million for a 2-bedroom, this condominium is not for the typical buyer.
Noble Ploenchit
Pricing 4/5
I find it reasonably priced considering new projects in places like Thong Lor are already priced at approximately THB 300,000 per square meter.
Location 5/5
I really cannot stress this selling point enough. Imagine exiting the BTS Station and walking for about one minute and you are at the entrance of the condominium. Ploenchit is the equivalent to Hong Kong's Central District or Singapore's Orchard Road and Noble Ploenchit has a link bridge from the BTS Station to the development.
Quality 3.5/5
I do think that they could do much better with the quality of the finishing in the development. It is not bad by any yardstick but I would expect something a little more premium for a property in this area.
98 Wireless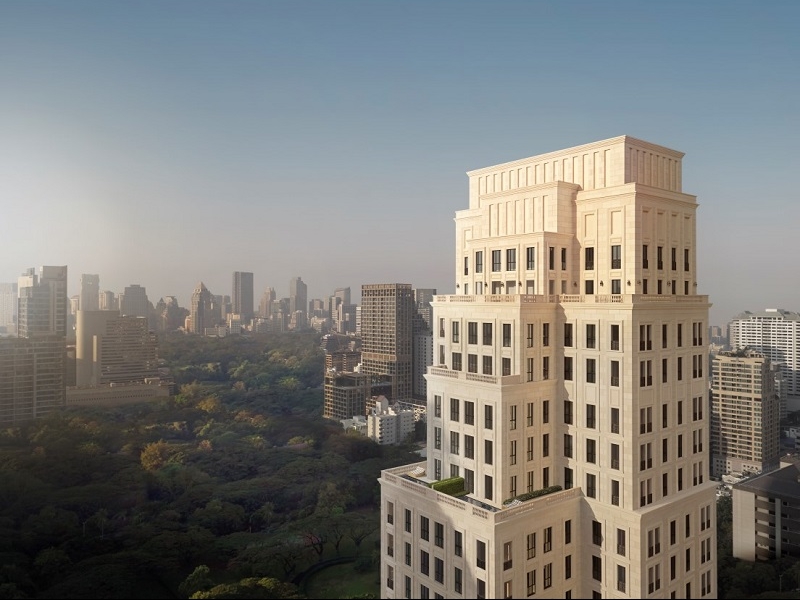 Pricing 2.5/5
I am trying very hard to think of how to judge this. If I were to judge it from an investment standpoint, then the rating would be so much lower. The property is so overpriced that you would find it hard to get a decent rent that makes sense. Moreover, the chances of reselling at a profit might be low because there are an exclusive few that can appreciate such a property. If I were to judge the price based on the quality, finishing and the overall exclusivity then the rating would be much higher. Thus I am split in the middle and would stay neutral at 2.5. For now, 98 Wireless is the most exclusive condominium in the whole of Bangkok but there is no stopping another developer from doing something grander.
Location 4/5
Being close to Ploenchit BTS is a plus and so is being located along Wireless Road. The roads are rather congested just about any time of the day and this can be a real issue when driving. I am assuming that the people who live in 98 Wireless would most probably drive rather than take the train system.
Quality 5/5
I have not seen such attention to detail as 98 Wireless and I am not referring solely to Bangkok. When it was being built, the concept sounded impressive. Now that it is complete, it really feels like Sansiri has built a little bit of Central Park in downtown Bangkok.
Yours Sincerely,
Daryl Lum
p.s. I am a licensed real estate salesperson in Singapore and also run a real estate agency in Bangkok which does new home sales, resale and rental of properties in Bangkok. My review is to give buyers an insight into some properties in Bangkok.
Here are some articles of my other articles about investing in Thai property:
1) The good locations for property investment in Bangkok
2) A compelling case to invest in Bangkok
3) Guide to buying a property in Thailand
4) Thailand Property: Legal and Tax Issues
5) Recognising the different property title deeds in Thailand
6) Can a foreigner take a property loan in Thailand?
7) Buying property in Bangkok: Payment procedures
8) A guide to the top property developers in Thailand
9) Thailand Property Market Outlook for 2018
10) Thailand as a retirement destination
11) How to get a Retirement Visa in Thailand
12) My personal experience purchasing a property in Bangkok
13) Things to take note when investing in an overseas property
14) Factors that determine the property price in Bangkok