If you have been following my blog, you would realise that I do favour some developers heavily. UOL is perhaps one of my favourite developers and it's latest offering is Avenue South Residence along Silat Avenue.
Details about the development
Avenue South Residence is a 99-year leasehold site with a total site area of 245,972 square feet and has a gross plot ratio of 3.7. In April 2017, UOL Group submitted the only and winning bid of SGD$1.035 billion to acquire the residential site. The price works out to SGD$1,138 per square foot. The consortium was made up of wholly-owned subsidiary UOL Venture Investments (UVI), UIC Homes and Kheng Leong Company (KLC). The muted response could be attributed to the fact that the capital outlay was restrictively large and there are five conserved buildings which are to be retained and restored by the bidder. Moreover, there was a cap on the number of dwelling units at 1,125 units and a cap on commercial gross floor area at 1,300 square meters or 13,993 square feet. The developer has to use prefabricated, pre-finished volumetric construction (PPVC). UOL had previous experience as one of their previous development, The Clement Canopy, is using this method of construction.
There is great interest in the Urban Redevelopment Authority's (URA's) vision for Singapore's southern waterfront. Dubbed the Greater Southern Waterfront, there are plans to develop the areas once used for port and industrial uses into a new major gateway and location for urban living along Singapore's southern coast. Avenue South Residence is located just off where Keppel Road and Keppel Viaduct and it is the area south of Avenue South Residence which will be developed as the Greater Southern Waterfront.
Avenue South Residence will consist of two 56-storey towers and will have 1074 units of 1 to 4 bedroom units. The five conserved buildings will make up part of the development and they will be restored by the developer.
Where is the development located?
Avenue South Residence is located along Silat Road. Currently, the nearest MRT Station is Outram Park MRT Station. It will take approximately 17 minutes to walk to Outram MRT Station and the distance covered will be around 1.3 kilometres.
There will be two other options for residents in 2025. By then, Cantonment MRT Station and Keppel MRT Station would have commenced operations. These two stations are located along the Circle Line.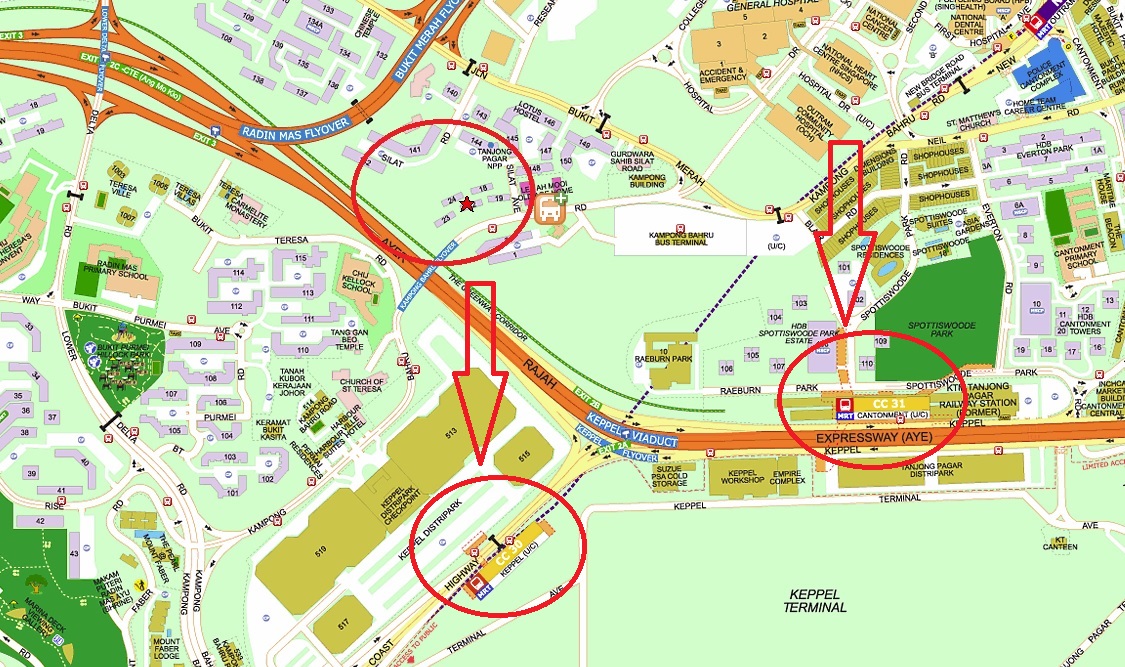 Cantonment MRT Station should be the nearer option and since there is no point on Google Maps that represents Cantonment MRT Station, I will use block 110 Spottiswoode Park Road as a reference point. Based on Google Maps, it will take about 15 minutes to get to Cantonment MRT Station and the distance covered will be around 1.2 kilometres.
Outram Park MRT Station is located within the central business district (CBD). If you are travelling to Raffles Place MRT Station, it will take you 4 minutes across 2 stations and cost you $0.83.
If you are going to Orchard MRT Station it will take you 9 minutes across 5 stations. You will need to make a change to the North East Line at Dhoby Ghaut MRT Station.
If you are driving, it will take you about 9 minutes to get to Raffles Place. The distance travelled will be about 3.2 kilometres.
If you would like to drive to Orchard Road, it would take you about 11 minutes and the distance covered would be about 4.5 kilometres.
The selling points of the development
The main selling point would be that it is located right at the fringe of Singapore's CBD. If you are working in the CBD and would like to live in close proximity to the CBD, then Avenue South Residence would be one of your options. It is also located very close to Singapore General Hospital and demand could come from this area as well. The URA in its Greater Southern Waterfront plans did mention about extending the city and this should also bring about more offices and commercial activity to the area.
Avenue South Residence is going to be 56 storeys high and this will be one of the tallest residential buildings in Singapore. Units on the very high levels will have unblocked and unrivalled views of either the city or the waterfront. As the Greater Southern Waterfront project takes shape, this area will become even more desirable.
Recently the URA announced plans to revitalise the CBD. For a long period of time, the price growth in the non-core central regions has outperformed the core-central region. While living close to the CBD was a draw, the CBD had very little to offer residents post office hours and on weekends. However, the URA is making plans to revitalise the CBD and in time to come, the area will have a good mix of both commercial and residential activities. It is my view that it was always easier to integrate residential buildings to a business district than it is to integrate a business district into a largely residential area. For property investors this is a good thing. Rental demand would already be there as business activity is already part of the existing CBD. Demand for rent should be there and if the URA were to revitalise the CBD, it would end up as a very attractive proposition for those working in the area.
One of the selling points of this development would be the developer profile. UOL is one of the best developers in Singapore. They are experienced and their developments are usually of very high quality. There have been instances of poor workmanship by developers who have not always delivered on what they are supposed to. As land and construction costs rise, developers need to maintain healthy profits and some may place profits over quality.
Possible bad points about the development
It is not exactly near any MRT station. Having to walk more than a kilometre to the nearest MRT Station may be a challenge especially if the weather is not ideal. The closest option would be Cantonment MRT Station which would be ready by 2025. That would still require a 15-minute walk to get to the station. If the weather is bad, this can be quite of a challenge as the walk is rather unsheltered. On the plus side, residents who are working in the CBD should be able to use other forms of transportation to get to their workplace.
My thoughts about the development
I do favour city fringe developments. I do think that even though the URA is trying to decentralise business activity, companies will more often than not try to base their core business activities in the core central region and the CBD. Thus I do believe that the demand for properties in this area will always be prevalent. I do think that this development is extremely promising especially with the area around it going through rejuvenation and with plans for the Greater Southern Waterfront. It is right at the fringe of the CBD and very close to Singapore General Hospital (SGH). Getting to the CBD is rather convenient but residents should be using bus routes rather than the train system to get to the CBD.
Avenue South Residence is not located close to an MRT station. That is perhaps the downside of this development. However, the development is very close to the CBD and most residents would use the bus services or hire a taxi or private hire vehicle or drive to work. It is perhaps a very interesting development as it is convenient in terms of proximity to the city centre but yet it is not close to a train station. However, I do expect that a large number of residents will be drawn to the fact that this area is rather serene and unique as it is located in an area where it is easily accessible to just about anywhere in Singapore.
As of the point of writing, pricing has yet to be confirmed.
Avenue South Residences
Pricing (Yet to be released)
Location 4/5
I do think that property buyers should take a look at developments close to the CBD now that the URA has announced plans to revitalise Orchard and the CBD. Prices in outside core central region have appreciated more than the core central region in recent years. In fact, in some cases, properties in places like Woodleigh have crossed the SGD$2,000 per square foot mark. Many buyers were attracted to the government's development plans in places like Paya Lebar and Jurong. They bought into these areas as prices are expected, though not guaranteed, to appreciate with businesses and residential developments coming on board. This same thinking can now be applied to the CBD and the Greater Southern Waterfront. I was inclined to give Avenue South Residences a higher score for its location were it not for the fact that it is not close to an MRT station. Connectivity wise, this is truly at the fringe of the CBD, Sentosa and has easy access to CTE and thus the rest of Singapore.
Quality 4.5/5
I have always favoured developments by UOL. UOL, in my opinion, is one of the best developers in Singapore. Their developments are well thought out and quality wise, they are one of the best. If you are thinking that the profile of the developer is not very important, you may want to refer to these two articles:
Kingsford Huray gets no-sale licence for Normanton Park project
Buyers Of Two Freehold Condos Still Waiting On Completion Despite 2016 TOP
So yes, developers do vary vastly when it comes to quality and there are developments that do not obtain their temporary occupation permit (TOP) on time.
Yours Sincerely,
Daryl Lum
p.s. Disclaimer: I am a licensed real estate salesperson at the point of writing this review. My real estate agency is the marketing agency for Avenue South Residence. Buyers can approach me to purchase Avenue South Residence and I will earn a commission from the developer. My reason for writing this review is to share my personal view about the developments not as a real estate salesperson but in the neutral context of a buyer and hopefully share some insight to help buyers make a more informed buying decision.
You can access more information, floor plans and price lists, about Avenue South Residence and other new project launches here.
My other Singapore Property Reviews
My review of The Avenir by Hong Leong Holdings and GuocoLand
My review of One Holland Village Residences by Far East Organisation
My review of Neu at Novena and Fyve Derbyshire by Roxy Pacific Holdings
My review of Midwood by Hong Leong Holdings
My review of Royalgreen and Juniper Hill by Allgreen Properties
My review of Sky Everton by Sustained Land
My review of Sengkang Grand Residences by Capitaland and City Developments Limited
My review of One Pearl Bank by Capitaland
My review of The Antares by FSKH Development
My review of Parc Clematis by SingHaiyi Group
My review of Piermont Grand by City Developments Limited
My review of Parc Komo by CEL development
My review of Riviere by Frasers Property
My review of Avenue South Residence
My review of 1953 by Oxley Holdings
My review of Uptown @ Farrer
My review of The Florence Residences
My review of Treasure at Tampines
My review of Fourth Avenue Residences
My review of The Woodleigh Residences
My review of Kent Ridge Hill Residences
My review of Arena Residences
My review of Whistler Grand and Twin Vew
My review of Mayfair Gardens and Daintree Residence
My review of Parc Esta
My review of Jui Residences
My review of The Jovell
My review of JadeScape
My review of Stirling Residences and Margaret Ville
My review of The Tre Ver and Riverfront Residences
My review of Park Colonial
My review of Affinity at Serangoon and The Garden Residences
Other related articles:
My 2018 Singapore Property Market Review
How to select a good unit at a new project launch
Are Singapore property prices too high?
P.S. I have just started a YouTube Channel and I will be uploading weekly videos explaining the various investment terms and jargon which may come in handy for some. Do consider subscribing to my YouTube Channel for useful investment content videos. You can access my YouTube Channel here.