The Woodleigh Residences is one of the most hotly anticipated new project launches in 2018. The project will be launched in the coming weeks and the sales gallery has just been opened to buyers. I had done a review of Park Colonial previously and since both The Woodleigh Residences and Park Colonial share are just opposite one another, I will focus less on the accessibility of The Woodleigh Residences to the Central Business District (CBD) and other parts of Singapore and instead focus on the inherent locational characteristics. I will also do a comparison with Park Colonial and point out the pros and cons of selecting one over the other. If you would like to refer to my review of Park Colonial, you can find it here:
Details about the development
The Woodleigh Residences is a 99-year leasehold development developed by Japanese property developer Kajima Development and Singapore Press Holdings (SPH). Back in June 2017, Kajima and SPH won the site with a top bid of $1.132 billion in the government land sale exercise for the 2.54 hectare site. This translated to a $1,181 per square foot per plot ratio based on the maximum allowable gross floor area of 958,450 square feet. There were 12 bids in total. The top bid was a mere 1.3 per cent higher than the next highest bid from Far East Organisation and Sekisui House, reflecting the fierce competition for this plot of land. The Woodleigh Residences will be an integrated development with The Woodleigh Mall and will comprise 667 units of two, three and four bedroom units. Prices will start at $1,873 per square foot and from previous media reports, most units are likely to be priced at above $2,000 per square foot.
In the diagram above, The Woodleigh Residences site is the blue HDB Sale Site. The plot of land opposite belongs to CEL Unique Development and is now the site of Park Colonial, a development which was launched earlier in the year. To make some comparisons, the plot of land which Park Colonial sits on was acquired for 700.7 million or $1,110.09 per square foot per plot ratio. This is about 6 per cent lower than The Woodleigh Residences site.
Where is this development located?
The Woodleigh Residences is located right next to Woodleigh MRT Station. It is integrated with The Woodleigh Mall, a 28,000 square meter mall with retail, dining and commercial space. The development will include a supermarket, a neighbourhood police post and a community club. It will also be linked to Singapore's first air-conditioned underground bus interchange. It is also next to Alkaff Lake and Bidadari Park. Surrounding it will be HDB flats which will be completed somewhere between 2019 to 2021.
As mentioned, I will not be touching on the distance and times taken to get to other parts of Singapore. I covered these in my review of Park Colonial.
The selling points about the development
The main selling point would be the fact that it is an integrated development with The Woodleigh Mall and a bus interchange. Very rarely do you get a development that is integrated with a large shopping mall. The level of convenience of having just about everything at your doorstep is unrivalled.
Next would be the location. Just like Park Colonial, The Woodleigh Residences is located just next to Woodleigh MRT Station. It is very fast to get from Woodleigh MRT Station to the city centre.
Due to the location and the fact that this is an integrated development, I would believe that finding possible tenants would not be difficult. If you were to travel along the North East Line, there are only three integrated residential developments next to MRT stations. They are The Poiz Residences with The Poiz Centre at Potong Pasir MRT, The Woodleigh Residences with The Woodleigh Mall at Woodleigh MRT and Compass Heights with Compass One at Sengkang MRT. I have always maintained that convenience is the most important factor for most tenants. Living in an integrated development at the city fringe does seem like an enticing proposition.
Possible bad points about the development
Congestion may be an issue moving forward. As it is currently, peak hour traffic along Upper Serangoon Road is already extremely heavy. With so many upcoming HDB flats around the vicinity, it remains to be seen whether congestion will be an issue on the roads leading to The Woodleigh Residences.
My thoughts about the development
Price wise the lowest per square foot unit at The Woodleigh Residences is going to be $1,873 psf. I would expect a sizable number of units to be launched at around $2,000 per square foot. This is a very tall ask for developments in this area. It would set a benchmark for the area. In contrast, according to the Urban Redevelopment Authority (URA), there were 80 units sold at Park Colonial. The median price for units sold in September was $1,751 psf and the lowest psf was $1,374 and the highest was $1,935. There are still 302 units out of the 805 units in the project based on URA figures on the 2nd of November 2018.
It would be wise to note that a large bulk of the units sold at Park Colonial was sold on the very night that URA announced the new property cooling measures on the 5th of July 2018. 429 units were sold in the month of July. This works out to 74 units sold in the months of July (post cooling measures), August and September.
The median price of units at Park Colonial has been hovering around $1,750 per square foot. From 5th July till end September, a total of almost 3 months yielded 74 units, just under a unit a day. These are respectable figures but units are not necessarily flying off the shelves. If The Woodleigh Residences has a median price of about $2,000 per square foot, buyers should really think whether forking out approximately 15% higher for Woodleigh Residences would make sense. In my personal opinion, Park Colonial is still one of the better launches for the whole of 2018, price and location wise and I do think that its location is just as good if not better due to it being on the less congested side of the road (I will touch on this in my next point). I do think it would be a challenge to push units past $2,000 psf at The Woodleigh Residences. I do not see many possibilities for an upside in price when the entry point for the buyer is north of $2,000 per square foot. I did a previous article about whether Singapore property prices were too high and I illustrated the trend of a rising property price index diverging from a falling rental index. I do agree that the location is extremely good but it does not mean that if a location is extremely good, buyers should buy the property at all costs.
Looking at past transactions for developments in the area, prices do hover in the mid $1,300 psf range. If prices at The Woodleigh Residences do reach $2,000 psf, that would represent an approximate 35 per cent premium over the resale market. This premium is something which buyers have to decide whether is something they are willing to fork out just for an integrated development. When the development is completed, it should have a positive knock-on effect on the surrounding developments. My personal thought is that this future positive effect may have already been factored into the price of units at The Woodleigh Residences.
Just like Park Colonial, I do find the location of The Woodleigh Residences very prime. The Woodleigh Residences should be in direct competition with Park Colonial. Although extremely convenient, I do feel that there is a possibility for the roads around The Woodleigh Residences to be very congested. The Upper Aljunied Road is the only road linking Macpherson to this area and thus anyone wanting to get to Woodleigh from Macpherson would travel up this route. Coming from the direction of the city towards The Woodleigh Residences during peak hours may be an issue as well. Based on whatever roads that are available currently, you would have to enter via Upper Aljunied Road and Bidadari Park Drive. These roads are also used by drivers residing in the HDB flats nearby as well as driving visitors to The Woodleigh Mall. For those who are buying for own stay, want the convenience and yet do not want the probable congestion, the developments just across the road may be more suitable. Developments like Parc Colonial are just as close to Woodleigh MRT Station and access to The Woodleigh Mall, the bus interchange and all the amenities available to residents of The Woodleigh Residences is via the MRT underpass.
I have mentioned this before previously. Woodleigh is a new town and the HDB flats are still currently under construction and are slated to be completed between 2019 to 2021. This would mean that the earliest HDB flats that can be rented out, barring those with special permission, would be in 2024. For those that pick up their keys in 2021, the earliest they could rent their flats out if they wished to do so would be in 2026. The Woodleigh Residences is slated for completion in 2022 and thus if tenants would like to live in Woodleigh, they would have to rent private condominiums. The Woodleigh Residences would be one of the top choices in the area.
The Woodleigh Residences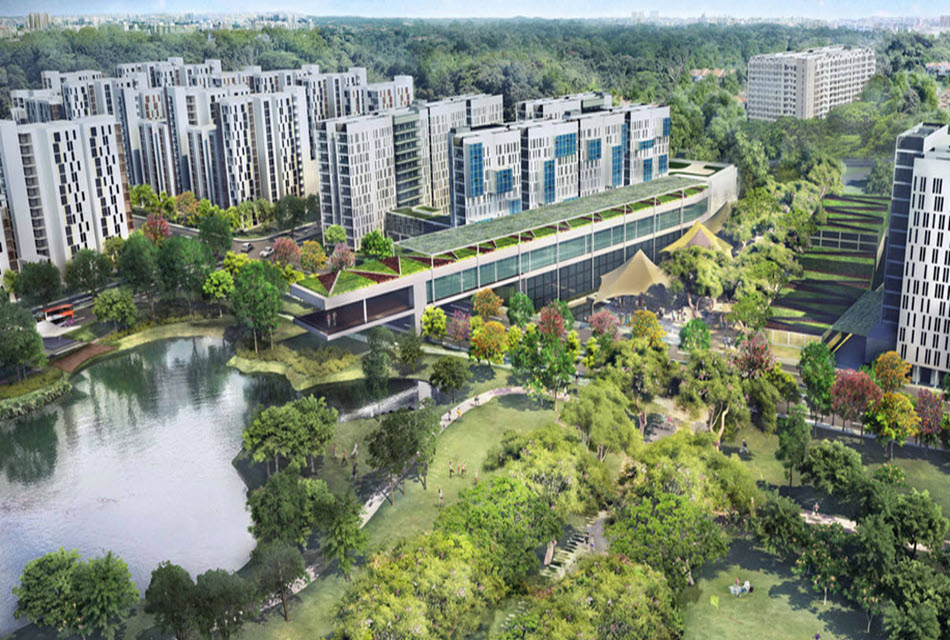 Pricing 1.5/5
Units should be priced south of $2,000 psf. This would set a new benchmark for units in the vicinity. Pricing is not yet confirmed but if prices were to start at $1,873 psf, I would believe that prices should hover just above $2,000.
Location 4.5/5
I do think that location is extremely prime. Just like my previous review of Park Colonial, The Woodleigh Residences is located right next to the MRT station and this is a huge plus. Getting to town will be a breeze. If I had to choose between The Woodleigh Residences and Park Colonial based on location, The Woodleigh Residences would most probably come out top but just by a hair's breadth.
Quality and Developer Reputation 4/5
SPH is more synonymous with print media. However, they do own 70 per cent of a real estate investment trust, SPH REIT. SPH Reit comprises Paragon and The Clementi Mall. SPH also operates The Seletar Mall, has a stake in Chinatown Point and has previously developed Sky@Eleven. Kajima Singapore worked on projects like Resorts World Sentosa, City Square Mall, Marina Square, St. Regis and Marina Mandarin to name a few. Kajima Corporation's company stock is traded on four leading Japanese stock exchanges and is a component of the Nikkei 225 stock index. Both SPH and Kajima are huge reputable corporations.
As much as I do like The Woodleigh Residences for all the positive points which I have stated, I still cannot get over the fact that there is going to be units with per square foot prices in excess of $2,000. I do think that Park Colonial is the better, more reasonably priced development between the two.
Yours Sincerely,
Daryl Lum
Disclaimer: I am a licensed real estate salesperson at the point of writing this review. My real estate agency is the marketing agency for Park Colonial and as a real estate salesperson, I can bring buyers to both The Woodleigh Residences and Park Colonial projects and earn a commision. In fact, I can bring buyers to just about any project and earn a commission. My reason for writing this review is to share my personal view about the developments and hopefully share some insight to help buyers make a more informed buying decision.
My other Singapore Property Reviews
My review of The Avenir by Hong Leong Holdings and GuocoLand
My review of One Holland Village Residences by Far East Organisation
My review of Neu at Novena and Fyve Derbyshire by Roxy Pacific Holdings
My review of Midwood by Hong Leong Holdings
My review of Royalgreen and Juniper Hill by Allgreen Properties
My review of Sky Everton by Sustained Land
My review of Sengkang Grand Residences by Capitaland and City Developments Limited
My review of One Pearl Bank by Capitaland
My review of The Antares by FSKH Development
My review of Parc Clematis by SingHaiyi Group
My review of Piermont Grand by City Developments Limited
My review of Parc Komo by CEL development
My review of Riviere by Frasers Property
My review of Avenue South Residence
My review of 1953 by Oxley Holdings
My review of Uptown @ Farrer
My review of The Florence Residences
My review of Treasure at Tampines
My review of Fourth Avenue Residences
My review of The Woodleigh Residences
My review of Kent Ridge Hill Residences
My review of Arena Residences
My review of Whistler Grand and Twin Vew
My review of Mayfair Gardens and Daintree Residence
My review of Parc Esta
My review of Jui Residences
My review of The Jovell
My review of JadeScape
My review of Stirling Residences and Margaret Ville
My review of The Tre Ver and Riverfront Residences
My review of Park Colonial
My review of Affinity at Serangoon and The Garden Residences
P.S. I have just started a YouTube Channel and I will be uploading weekly videos explaining the various investment terms and jargon which may come in handy for some. Do consider subscribing to my YouTube Channel for useful investment content videos. You can access my YouTube Channel here.