Sengkang Grand Residences by Capitaland and City Developments Limited is a very interesting proposition for property buyers. Recent launches have been rather enticing for buyers who are in the market for a new project launch. In the plethora of launches in 2019, a few projects do stand out in terms of their locational attributes as well as their unique selling points. Sengkang Grand Residences will garner a great deal of interest from property buyers due to its location next to an MRT Station and the fact that it is an integrated development.
Details about the development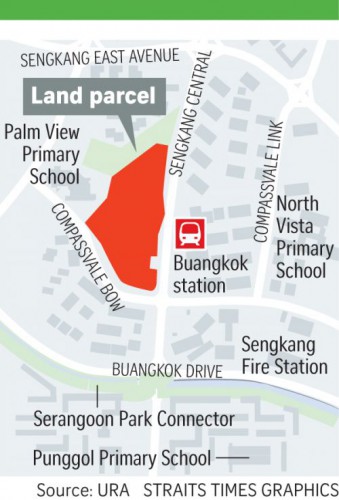 Sengkang Grand Residences is a 99-year leasehold development which will be jointly developed by Capitaland and City Developments Limited. Back in December 2017, the Urban Redevelopment Authority (URA) launched this 37,300 square meter site under the confirmed list of the second half 2017 Government Land Sales (GLS) programme. The site, which is zoned for commercial and residential purposes received the winning bid of SGD$777.78 million or SGD$924 per square foot per plot ratio (psf ppr) from Capitaland and City Developments Limited. The integrated development, consisting of Sengkang Grand Residences and Sengkang Grand Mall, will complete in the first half of 2022. The proposed mixed-use development will have an integrated community and transport hub with a bus interchange, a hawker centre and a community club housed over three levels. This is the first time in over a decade that these two property heavyweights have collaborated. Their previous collaboration was back in 2007 where they jointly developed Botannia in the West Coast area. Sengkang Grand Residences will consist of 680 residential units spread over 9 blocks and will have 549 carpark lots. The unit mix of the development are as follows:
1 bedroom + study, 474 – 506 square feet – 131 units
2 bedroom, 624 – 678 square feet – 95 units
2 bedroom + study, 624 square feet – 10 units
2 bedroom premium + study, 732 – 764 square feet – 136 units
3 bedroom, 936 – 947 square feet – 148 units
3 bedroom premium, 1023 – 1055 square feet – 56 units
3 bedroom premium + flexi, 1012 square feet – 55 units
4 bedroom premium + flexi, 1313 – 1324 square feet – 49 units
Where is the development located?
Sengkang Grand Residences is located just next to Buangkok MRT Station. It is at the junction of Sengkang Central and Compassvale Bow. It is situated just opposite Esparina Residences and Jewel @ Buangkok.
The MRT station will be linked directly to the integrated development. Residents will be able to access Buangkok MRT Station via Sengkang Grand Mall.
There is a bus stop just next to the development. The bus services available at this bus stop are 27, 43, 43M, 43e and 102. However, as Sengkang Grand Residences will be part of an integrated development with a bus interchange, I do believe that there will be significantly more bus services once the development has completed. Thus I do think that connectivity in terms of bus services available should only be assessed once everything has been completed. Being an interchange in an integrated development would mean that it would be air-conditioned and sheltered.
Here is the Master Plan from the Urban Redevelopment Authority (URA) showing the land around the area. The ones in beige are residential plots. E stand for land zoned for educational purposes and Palm View Primary School sits on that plot of land. Generally, the area around Sengkang Grand Residences is fully developed and there are no other plots of land that can be released for residential development right next to Buangkok MRT Station.
Travelling to Raffles Place MRT Station will take 23 minutes over 11 stations. You will need to make a change to get to the North-South Line. It will cost you SGD$1.51.
Travelling to Orchard MRT Station will take 21 minutes over 10 stations. You will need to make a change to get to the North-South Line. I do think that the more direct route would be to make a change at Dhoby Ghaut MRT Station. This journey will cost you SGD$1.51 as well.
Travelling to Harbourfront MRT Station will take 29 minutes over 13 stations. The journey will be solely on the North-East Line. This journey will cost you SGD$1.67.
There will also be the upcoming Cross-Island Line and the interchange will be at Hougang MRT Station, which is one MRT Station away from Buangkok MRT Station. This will link residents towards Changi as well as up north towards Ang Mo Kio. Stage 1 is slated to begin operation in 2029 and eventually, there will be an extension to the upcoming Changi Airport Terminal 5 in 2031. You can read more about the Cross-Island Line at this link on the Land Transport Authority's website.
The drive from Sengkang Grand Residences to Raffles Place will take 23 minutes and the distance covered will be 19.2 kilometres. There is good connectivity to the KPE which leads directly to the central business district. Do note that I did this Google Maps query on a Sunday afternoon and thus traffic conditions were optimal. Do factor in additional time if you are travelling during the usual peak hours.
The drive to Orchard Road would require you to take the CTE. It will take about 24 minutes and the distance travelled will be about 15.7 kilometres. Once again, do factor in additional time for the usual peak hour traffic.
The selling points of the development
I do think that being an integrated development is a huge selling point. There are not many integrated developments in terms of having a residential component, a shopping mall, a bus interchange and being linked to an MRT Station. In fact, there are only 7 other completed integrated developments and 1 still under construction.
Here is a list of the other integrated developments
Bedok Residences
Compass Heights
Hillion Residences
North Park Residences
Sun Plaza Condominium
Watertown
The Centris
The Woodleigh Residences (Yet to be completed)
The total number of residential units in integrated developments only make up 1.3 per cent. There is definitely an advantage in terms of convenience and thus tenants and home buyers alike would usually factor this in when comparing between developments.
I have always felt that the developer's profile is an important factor when it comes to buyers comparing developments. I do think that the collaboration between CapitaLand and City Developments Limited is perhaps the best developer profile that a development can get. There is one thing to build a residential development together with a retail mall but it is a whole other thing to run the mall efficiently and getting the right tenant mix to come in to make the mall viable. CapitaLand's track record when it comes to running shopping malls is exemplary. Their portfolio includes Bugis Junction, Clarke Quay, Funan, Ion Orchard, JCube, Jewel Changi Airport, Junction 8, Plaza Singapura and Raffles City Shopping Centre among many others. Thus I do have high expectations for Sengkang Grand Mall. The quality of the developments that CapitaLand and City Developments Limited have completed are impressive as well. The developments are well thought out and workmanship is usually good.
Location in terms of proximity to the MRT Station is also a massive plus point. Having an MRT station literally at your doorstep is a huge advantage over many other developments. I have always remarked that there is a limited number of developments that can be built next to MRT stations as available land around MRT stations is limited.
Possible bad points about the development
Congestion may be an issue. The roads around Sengkang Grand Residences and Sengkang Grand Mall are only dual lanes. If we are anticipating a huge influx of traffic to this area then these roads may face very heavy traffic. If we were to factor in the bus interchange, community club, childcare centre and hawker centre, we will be expecting an exceptionally large number of people to frequent Sengkang Grand Mall.
My thoughts about the development
I do think that it is inevitable for property buyers to make comparisons between The Woodleigh Residences and Sengkang Grand Residences as they are both part of integrated developments. In my review of The Woodleigh Residences, I did point out that perhaps purchasing a unit at Park Colonial may be a better option as residents of Park Colonial will also get access to The Woodleigh Mall through access from Woodleigh MRT Station. On top of that, they can avoid the congestion which will happen around The Woodleigh Residences and The Woodleigh Mall. The same theory may not hold when it comes to Esparina Residences, Jewel @ Buangkok and The Quartz. There is no easy access to Buangkok MRT Station and thus Sengkang Grand Residences is perhaps the only private condominium in this area with easy access to the MRT Station. I do think that CapitaLand has better expertise in running shopping malls and thus comparing The Woodleigh Mall and Sengkang Grand Mall, I do expect Sengkang Grand Mall to have a better tenant mix and a better and more interesting concept, thus attracting more visitors. The nearest shopping malls of comparable size will be NEX Shopping Mall at Serangoon MRT Station and Waterway Shopping Cantre at Punggol MRT Station.
Once again I must stress the profile of the developer of Sengkang Grand Residences and Sengkang Grand Mall. These are perhaps as good as you can get. However, I do foresee that the pricing of this development will set a new benchmark in this area.
Sengkang Grand Residences
Pricing (Yet to be released)
Location 4/5
In terms of connectivity to an MRT station, this is connected to Buangkok Station. No complaints there. The surrounding area is mostly residential and thus there will be limited demand from tenants working close to this area. Demand would come from people working outside of Buangkok or Sengkang and thus if you are looking to buy to rent, you would be competing with other developments along the same MRT train line. That being said, I do think that for most, this would be a development to buy for their own use. This poses an interesting option for people in the area who are looking to upgrade to a condominium from their HDB flats.
Quality 5/5
I really cannot think of a better collaboration between two developers to develop an integrated development.
Yours Sincerely,
p.s. Disclaimer: I am a licensed real estate salesperson at the point of writing this review. My real estate agency is the marketing agency for Sengkang Grand Residences. Buyers can approach me to purchase Sengkang Grand Residence and I will earn a commission from the developer. My reason for writing this review is to share my personal view about the developments not as a real estate salesperson but in the neutral context of a buyer and hopefully share some insight to help buyers make a more informed buying decision.
You can access more information, floor plans and price lists, about Sengkang Grand Residences and other new project launches here.
My other Singapore Property Reviews
My review of The Avenir by Hong Leong Holdings and GuocoLand
My review of One Holland Village Residences by Far East Organisation
My review of Neu at Novena and Fyve Derbyshire by Roxy Pacific Holdings
My review of Midwood by Hong Leong Holdings
My review of Royalgreen and Juniper Hill by Allgreen Properties
My review of Sky Everton by Sustained Land
My review of Sengkang Grand Residences by Capitaland and City Developments Limited
My review of One Pearl Bank by Capitaland
My review of The Antares by FSKH Development
My review of Parc Clematis by SingHaiyi Group
My review of Piermont Grand by City Developments Limited
My review of Parc Komo by CEL development
My review of Riviere by Frasers Property
My review of Avenue South Residence
My review of 1953 by Oxley Holdings
My review of Uptown @ Farrer
My review of The Florence Residences
My review of Treasure at Tampines
My review of Fourth Avenue Residences
My review of The Woodleigh Residences
My review of Kent Ridge Hill Residences
My review of Arena Residences
My review of Whistler Grand and Twin Vew
My review of Mayfair Gardens and Daintree Residence
My review of Parc Esta
My review of Jui Residences
My review of The Jovell
My review of JadeScape
My review of Stirling Residences and Margaret Ville
My review of The Tre Ver and Riverfront Residences
My review of Park Colonial
My review of Affinity at Serangoon and The Garden Residences