The en bloc wave that occurred in late 2017 and early 2018 took over quite a number of privatised HUDC estates. The former Florence Regency is one such example and is making way for a new development named The Florence Residences.
Details about the development
The Florence Residences is a 99-year leasehold development developed by Logan Property. Logan Property is a listed developer on the Hong Kong stock exchange. They have been making forays into the Singapore property market and made waves when it jointly placed a record bid of SGD$1 billion in a Government Land Sales exercise for the plot of land at Stirling Road. That project, Stirling Residences, was launched in 2018. Back in October 2017, Logan Property purchased the 336-unit former HUDC estate, Florence Regency, for SGD$629 million. Each owner received gross proceeds of between SGD$1.84 million and SGD$1.89 million. In its place will be The Florence Residences and there will be 1,410 units spread out in 9 blocks over 389,239 square feet of land. There will be 216 1-bedrooms, 72 1-bedroom + study, 264 2-bedroom classic, 292 2-bedroom deluxe, 52 2-bedroom + study, 232 3-bedroom classic, 154 3-bedroom deluxe, 64 4-bedroom classic, 16 4-bedroom deluxe and 48 5-bedroom units. The development is expected to be launched in early 2019.
Where is the development located?
The Florence Residences is located along Hougang Avenue 2. It is right next to the former Serangoon Junior College which has since merged with Anderson Junior College and moved to Ang Mo Kio. It is just across the road from Hougang Stadium and Hougang Swimming Complex. It is located right in the middle of both Hougang MRT Station as well as Kovan MRT Station.
According to Google Maps, the distance is about 1.1 kilometres to walk to Hougang MRT Station. You will need to cut across the road and walk through the landed property enclave. Here is a video of the walk.
If you are travelling to Singapore's Central Business District (CBD) it will take you 21 minutes to get to Raffles Place MRT from Hougang MRT. It will cost you $1.47 and you will need to make a change at Dhoby Ghaut MRT to get onto the North-South Line.
If you are getting to Orchard MRT Station, it will take you 19 minutes and cost you $1.47 as well. You can either make a switch to the Circle Line at Serangoon to get to the North-South Line via Bishan or you can make a change at Dhoby Ghaut and head back down to Orchard Road.
One of the advantages of the North-East Line, in my opinion, is the relatively short time it takes to get to town. It only takes 17 minutes and costs $1.39 to get to Dhoby Ghaut MRT Station which is an intersection of three train lines and you are essentially already along Singapore's main shopping belt, albeit the tail end of Orchard Road.
An alternative would be to walk to Kovan MRT Station. According to Google Maps, it will take 14 minutes and the distance travelled would be 1.2 kilometres. This path is generally more sheltered as compared to the walk to Hougang MRT Station. There are shops and amenities along the route as well. I would expect residents to use this option more frequently.
Here is a video of the journey to Kovan MRT Station.
The distance and time taken are almost identical. I personally prefer the walk to Kovan MRT Station but that may just be down to my preference.
As Hougang MRT and Kovan MRT Stations are just one stop away on the same MRT line, the cost and times taken to travel around Singapore are almost the same.
The selling points of the development
The main selling point would be the relative size of the development. There have been too many cases of boutique developments having issues like high maintenance fees for relatively paltry facilities. The fact of the matter is that a larger development does allow for more comprehensive facilities are the cost of maintaining these facilities can be spread out among many residents. I do think that 1,410 is a large number of units and the plus side of this would be that costs can be shared and thus there will be more facilities to be shared among the residents. The Florentine is located right next to this development and is a boutique development with very limited facilities yet the maintenance fees should be similar if not higher than what residents of The Florence Residences will be paying.
The next selling point, even though I do think that it may be slightly a bit euphoric at the moment, is the announcement of the Cross Island MRT Line. This new Cross Island Line was announced on the 25th of January and will have 12 stations passing through areas such as Changi, Loyang, Pasir Ris, Hougang and Ang Mo Kio. Thus Hougang MRT Station will be an interchange between the North-East line and the Cross Island Line. When completed in 2029, it will cut down travelling times for more than 100,000 households. This will provide a boost for properties located along the MRT stations along the Cross Island Line although I will try to taper expectations a little. Demand should increase when the line is up in about 10 years time. The benefit of convenience will be felt by households living closest to the MRT Stations. It would be wise for investors to look at how properties along the Thomson East Coast Line have fared since the announcement and use that as a gauge to how the Cross Island Line will affect property prices. The Florence Residences is not exactly very near Hougang MRT Station but when the line is up in 2029, it will provide convenience to the residents living in The Florence Residences.
I do think that the vicinity is littered with good food, wet markets and a whole host of amenities. If you travel along Upper Serangoon Road, you will find a lot of eating places. The food centre at Kovan, as well as both Heartland Mall and Hougang Mall, provide residents in the area with shopping options. I do think that this area is a nice place to live due to the host of amenities on offer.
Possible bad points about the development
It is not exactly near to either Hougang or Kovan MRT Stations. If buyers are looking to purchase to rent out in future, they have to be aware of the stiff competition that they will have from developments nearer to the MRT stations. Midtown Residences and Naung Residences are closer to Hougang MRT Station and Kovan Melody and Kovan Residences are just two of many condominiums that are nearer to Kovan MRT Station. There is competition for tenants from other developments in the area.
The usual expected peak hour congestion in the roads around the area is during peak hours. To travel along Upper Serangoon Road at around 8 to 9 am will result in you getting caught in a huge jam just before Serangoon MRT Station and this congestion usually continues till just after Woodleigh MRT Station. The plus side is that the North-East Line brings commuters to town in a very short time so I do think that residents should utilise the MRT line to get to town during the usual peak hours. There are a lot of developments coming on board that are along the North East Line. Woodleigh is also developing into a huge town and this should add pressure on the roads around the area during peak hours. Taking the train would be a much better option in my opinion.
My thoughts about the development
Personally, I do like this area because of the amenities. I live and grew up somewhere nearby and have seen how Kovan transformed from a little sleepy neighbourhood to what it is today, with multiple developments and amenities. This area is also easily connected via the North-East Line to other parts of Singapore and with the upcoming Cross Island Line coming onboard in 2029, it will add further convenience to the area. Buyers have to be aware of other rival developments in the area. I do think that competition for tenants will be high and the Cross Island Line will not be ready until a decade later so the added convenience will come a while after the project has been completed. I do think that a development like this would be more suited for own stay. After dealing with some boutique developments with little to no facilities, a development like this with a whole host of amenities does make a difference. Taking a look at the boutique development next to it, The Florentine, which coincidentally I have some experience marketing units in the development, buyers and tenants do look to buying or renting a condominium because of the facilities. The development is tucked within a cluster of HDB flats and beside a landed property enclave and is walking distance to a whole array of food options along Upper Serangoon Road. It is also within 1 kilometre of Xinmin Primary School, Holy Innocents Primary School and Montfort Junior School. As there are 1,410 units, picking the right unit will be important for buyers. Purchasing prime units with good facing and with unique selling points will help when the unit is put on the market for sale or rent in the future.
The Florence Residences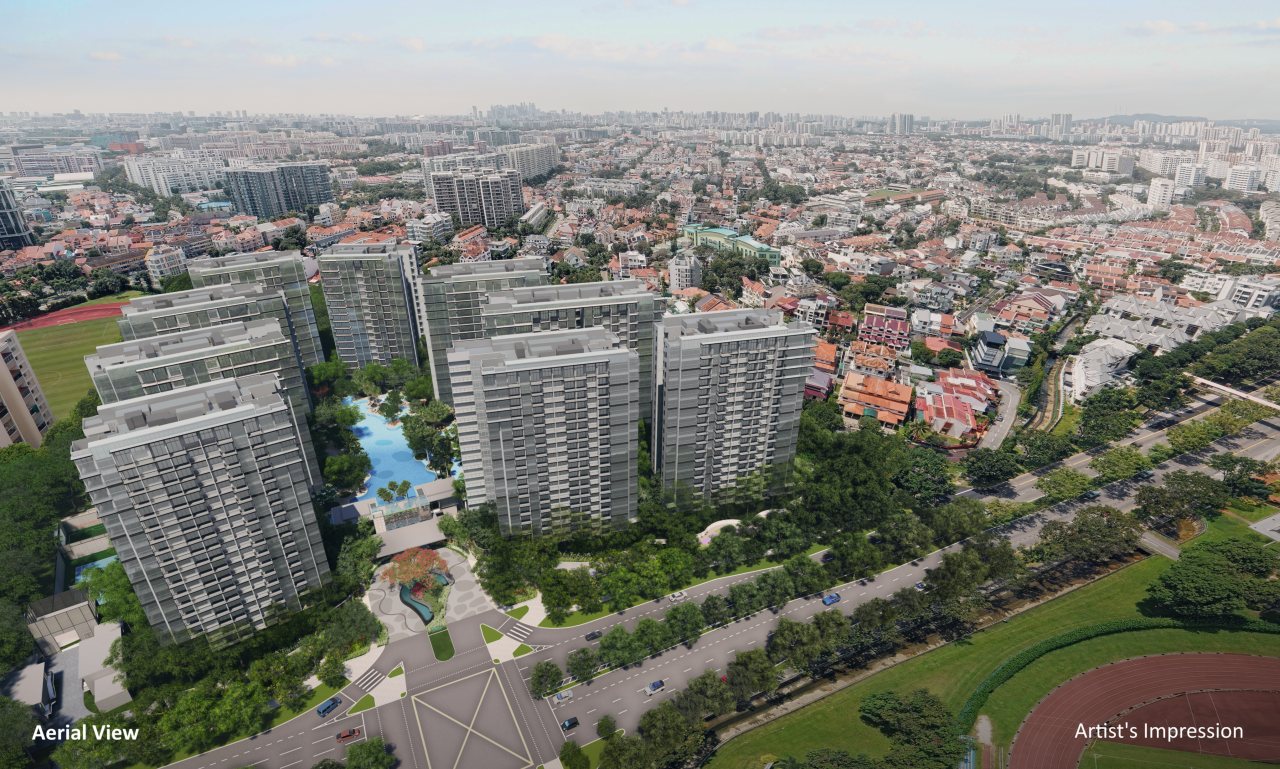 Pricing 3/5
Prices are in the region of about $13xx per square foot onwards. On average, prices hover in the mid $1,400s per square foot. You can get one bedroom units at just under $700,000. These are just about what you would be paying for for a new development around Kovan and Hougang. While not exceptionally cheap, pricing is just about what most expected. When you consider that units at The Tembusu, Affinity at Serangoon, Trilive, Park Residences Kovan and The Garden Residences have crossed $1,700 per square foot, you kind of get a sense of how far prices have come for properties around this area.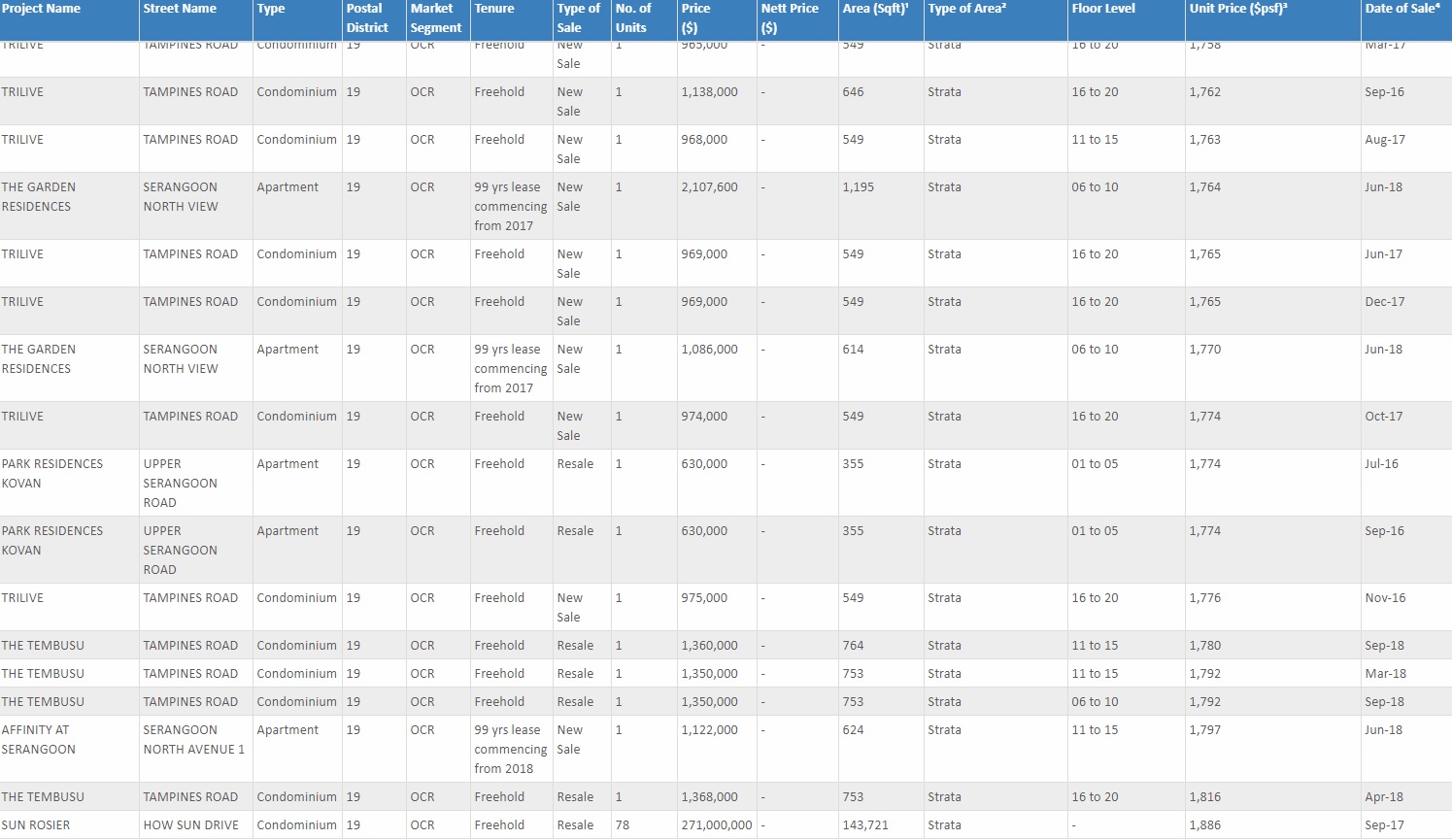 Location 2.5/5
I do think that it is a little far to walk to either Hougang or Kovan MRT Station. However, the area is filled with a lot of amenities and is within 1 kilometre of 3 good primary schools. The Cross Island Line should bring further convenience to residents once it is operational in 2029, although that is still 10 years away.
Quality 4/5
Logan Property Holdings is not a small player in property development. They may be new to the Singapore market but their previous development, Stirling Residences, has well thought out layouts and a good range of facilities. I do particularly like the spaced out layout of the various blocks in The Florence Residences. The units facing Hougang Avenue 2 should experience undesirable road noise but then these units are limited to certain units in two blocks. The rest of the units are away from the main road. Design wise I do find the buildings a little uninspiring but I do like that the pool is made the main centre feature of the development and the blocks are perpendicular to it rather than parallel. The units overlooking the landed properties will have permanent unobstructed views.
Yours Sincerely,
p.s. Disclaimer: I am a licensed real estate salesperson at the point of writing this review. My real estate agency is the marketing agency for The Florence Residences. Buyers can approach me to purchase The Florence Residences and I will earn a commission from the developer. My reason for writing this review is to share my personal view about the developments not as a real estate salesperson but in the neutral context of a buyer and hopefully share some insight to help buyers make a more informed buying decision.
You can access more information, floor plans and price lists, about The Florence Residences and other new project launches here.
My other Singapore Property Reviews
My review of The Avenir by Hong Leong Holdings and GuocoLand
My review of One Holland Village Residences by Far East Organisation
My review of Neu at Novena and Fyve Derbyshire by Roxy Pacific Holdings
My review of Midwood by Hong Leong Holdings
My review of Royalgreen and Juniper Hill by Allgreen Properties
My review of Sky Everton by Sustained Land
My review of Sengkang Grand Residences by Capitaland and City Developments Limited
My review of One Pearl Bank by Capitaland
My review of The Antares by FSKH Development
My review of Parc Clematis by SingHaiyi Group
My review of Piermont Grand by City Developments Limited
My review of Parc Komo by CEL development
My review of Riviere by Frasers Property
My review of Avenue South Residence
My review of 1953 by Oxley Holdings
My review of Uptown @ Farrer
My review of The Florence Residences
My review of Treasure at Tampines
My review of Fourth Avenue Residences
My review of The Woodleigh Residences
My review of Kent Ridge Hill Residences
My review of Arena Residences
My review of Whistler Grand and Twin Vew
My review of Mayfair Gardens and Daintree Residence
My review of Parc Esta
My review of Jui Residences
My review of The Jovell
My review of JadeScape
My review of Stirling Residences and Margaret Ville
My review of The Tre Ver and Riverfront Residences
My review of Park Colonial
My review of Affinity at Serangoon and The Garden Residences
Other related articles:
My 2018 Singapore Property Market Review
How to select a good unit at a new project launch
Are Singapore property prices too high?
P.S. I have just started a YouTube Channel and I will be uploading weekly videos explaining the various investment terms and jargon which may come in handy for some. Do consider subscribing to my YouTube Channel for useful investment content videos. You can access my YouTube Channel here.