The Jovell is a new condominium that is coming up in late September or early October. Since the implementation of the latest round of cooling measures, the frenzied market has tapered off somewhat. Buyers are starting to become more discerning and I do hope that my personal reviews to the latest new project launches do provide some form of insight to some buyers and hopefully, they can make a more informed buying decision. Property investment is not a sure win game. There are many who do lose money from property investments. We should not look at past performances as an indication of how much property prices will rise in the future. Property prices in Singapore are very high and with most foreigners discouraged from buying Singapore properties due to the restrictive buyer's stamp duties, it is left to Singaporeans to do most of the buying at new project launches in non-core central regions. The Jovell is the latest of such launches and here are some factors, benefits and risks when considering this development.
Details about the development
The Jovell is a 99-year leasehold project located along Flora Drive. It will be developed by Tripartite Developers Pte Ltd, a joint venture company between Hong Leong Holdings Limited, City Developments Limited (CDL) and TID Pte Ltd (previously named Trade and Industrial Development Private Limited). This joint venture was formed in 1968 and in the 1970s, acquired over 3 million square feet of land at Upper Changi Road North. Since then, Tripartite Developers has developed nine major condominiums in that area. They are Azalea Park, Ballota Park, Carissa Park, Dahlia Park, Edelweiss Park, Ferraria Park, The Gale, Hedges Park and The Inflora. The Jovell will be the developer's tenth development in that area.
The Jovell will have nine eight-storey blocks and will consist of 429 units in total. There will be 84 units of 1 bedroom and 1 bedroom plus study, 184 units of 2 bedrooms and 2 bedrooms plus study, 136 units of 3 bedrooms and 24 units of 4 bedrooms.
Where is the development located?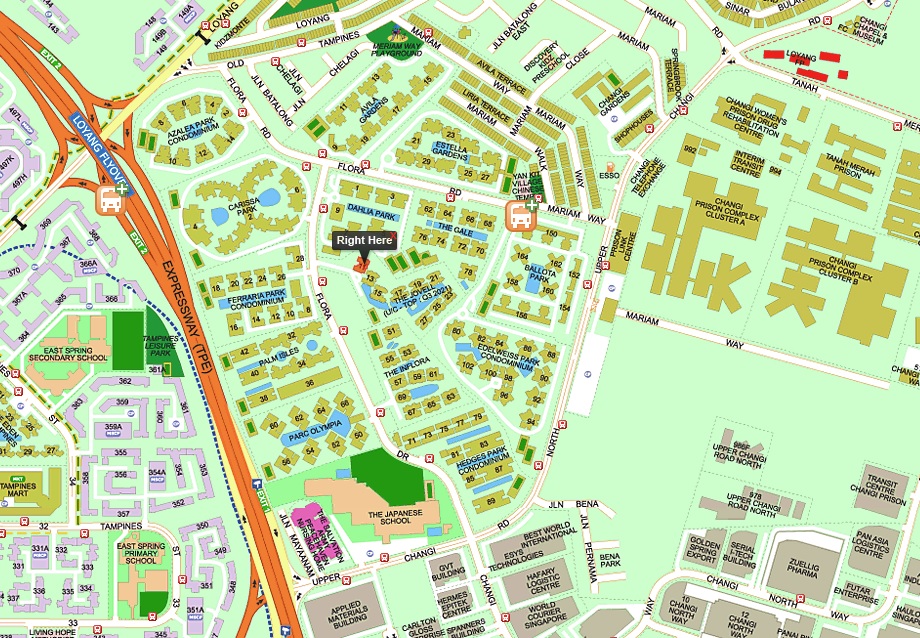 The Jovell is located right in the centre of a cluster of condominiums long Flora Drive. It will be the 14th condominium in that area. The Jovell is not near any current or future MRT station. The nearest MRT stations are Tampines East or Upper Changi which are along the Downtown Line and Simei or Tampines which are along the East-West Line.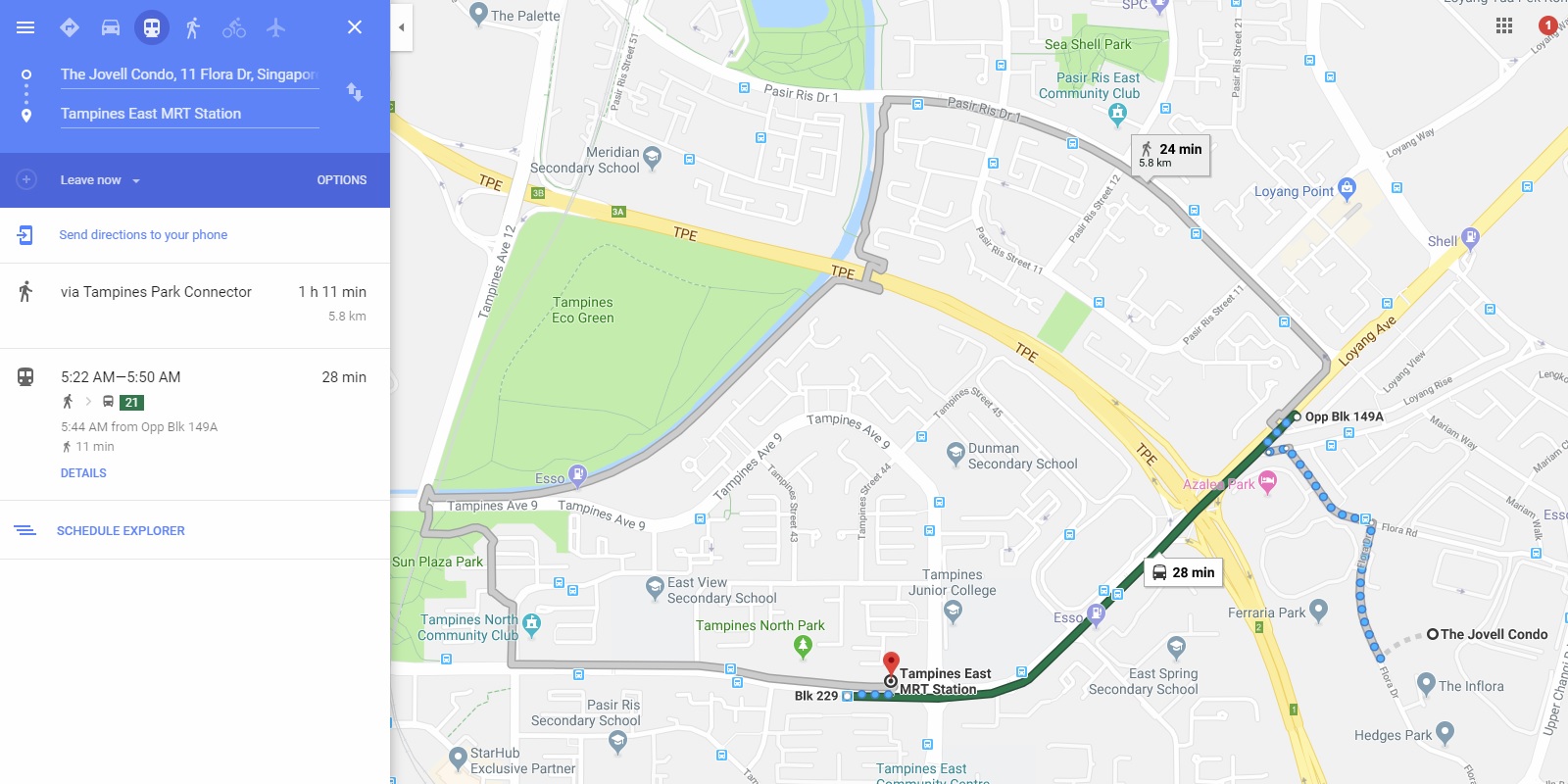 To get to Tampines East MRT Station you will need to walk out to the main road and take bus 21. It will take about 28 minutes to get to the MRT Station. The distance to Tampines East MRT Station is about 1.8 kilometres. The walk is too long and it is not sheltered. I do not think that many would want to walk to the MRT Station.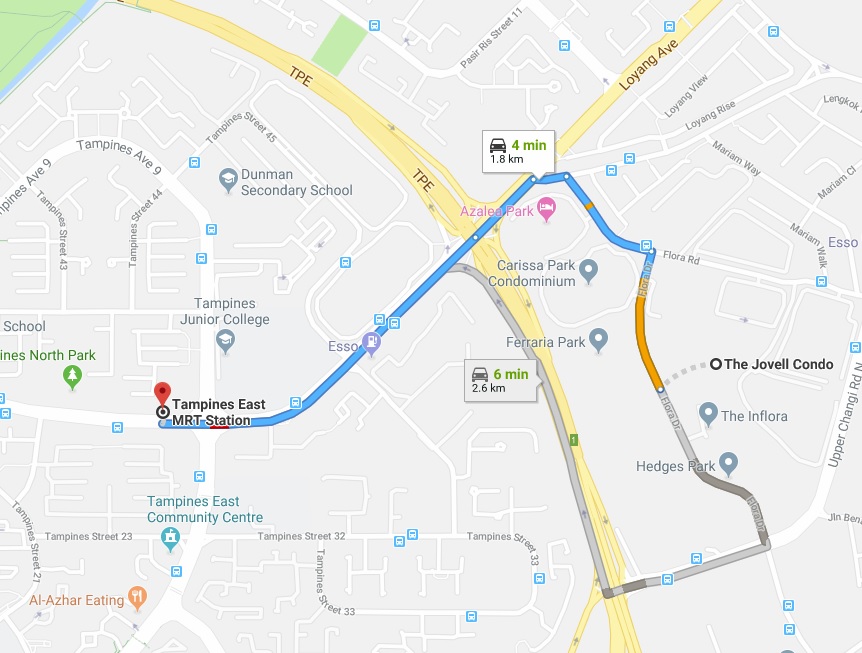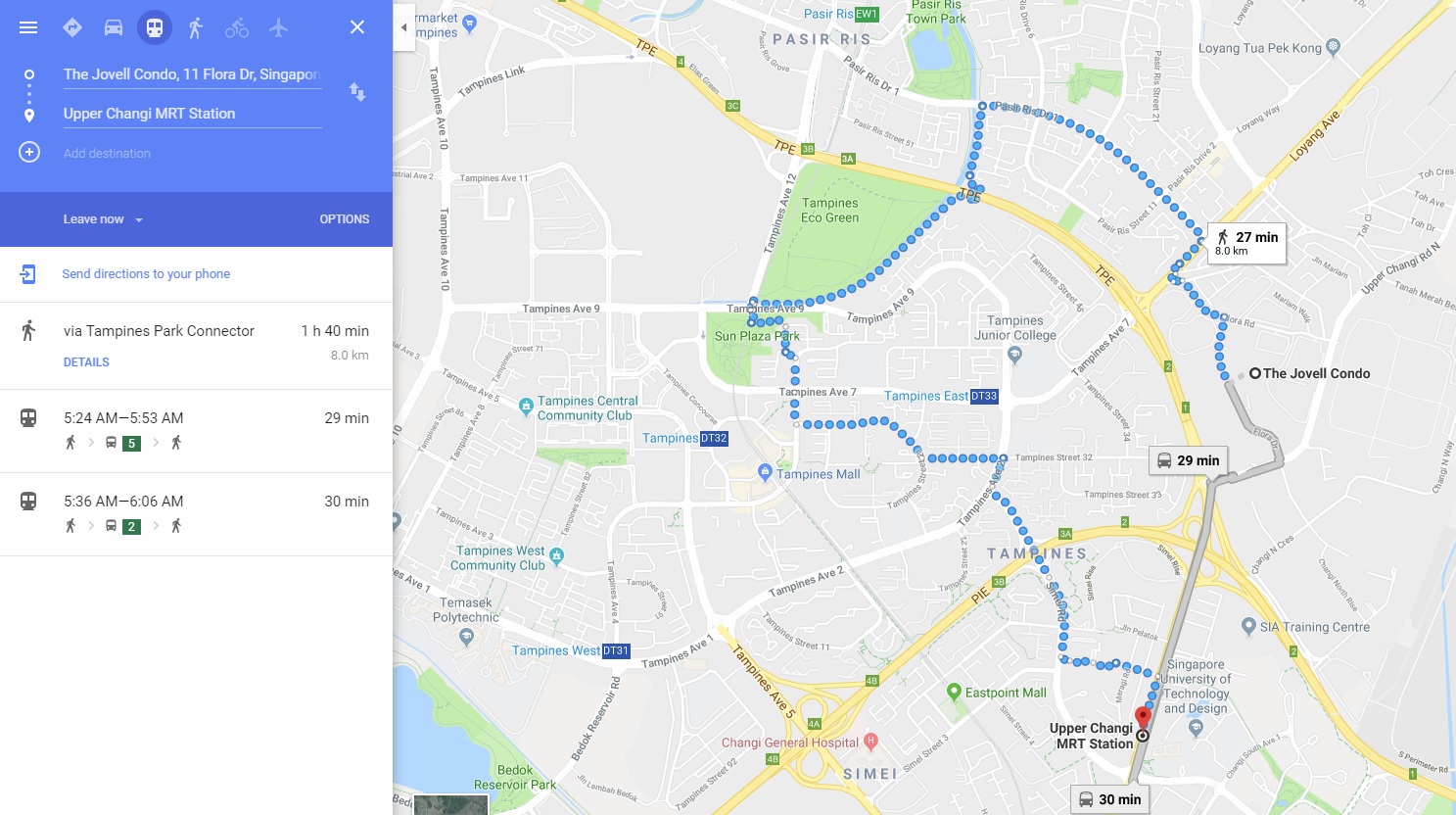 To get to Upper Changi MRT Station you will need to walk out to the main road and take either bus 2 or 5 and it will take approximately 29 minutes. The distance from The Jovell to Upper Changi MRT Station is 2.1 kilometres. Once again the walk is not sheltered and I am again of the impression that walking to Upper Changi MRT Station is not something that most residents of The Jovell are going to do.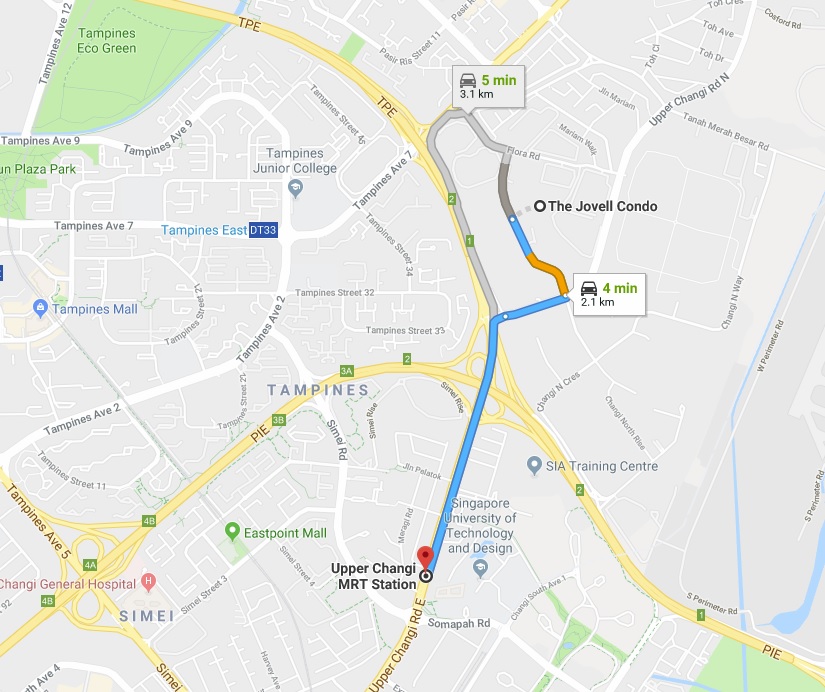 If you wanted to get to the East-West Line instead, then the nearest station would presumably be Simei. It would still take about 34 minutes to get to the MRT station.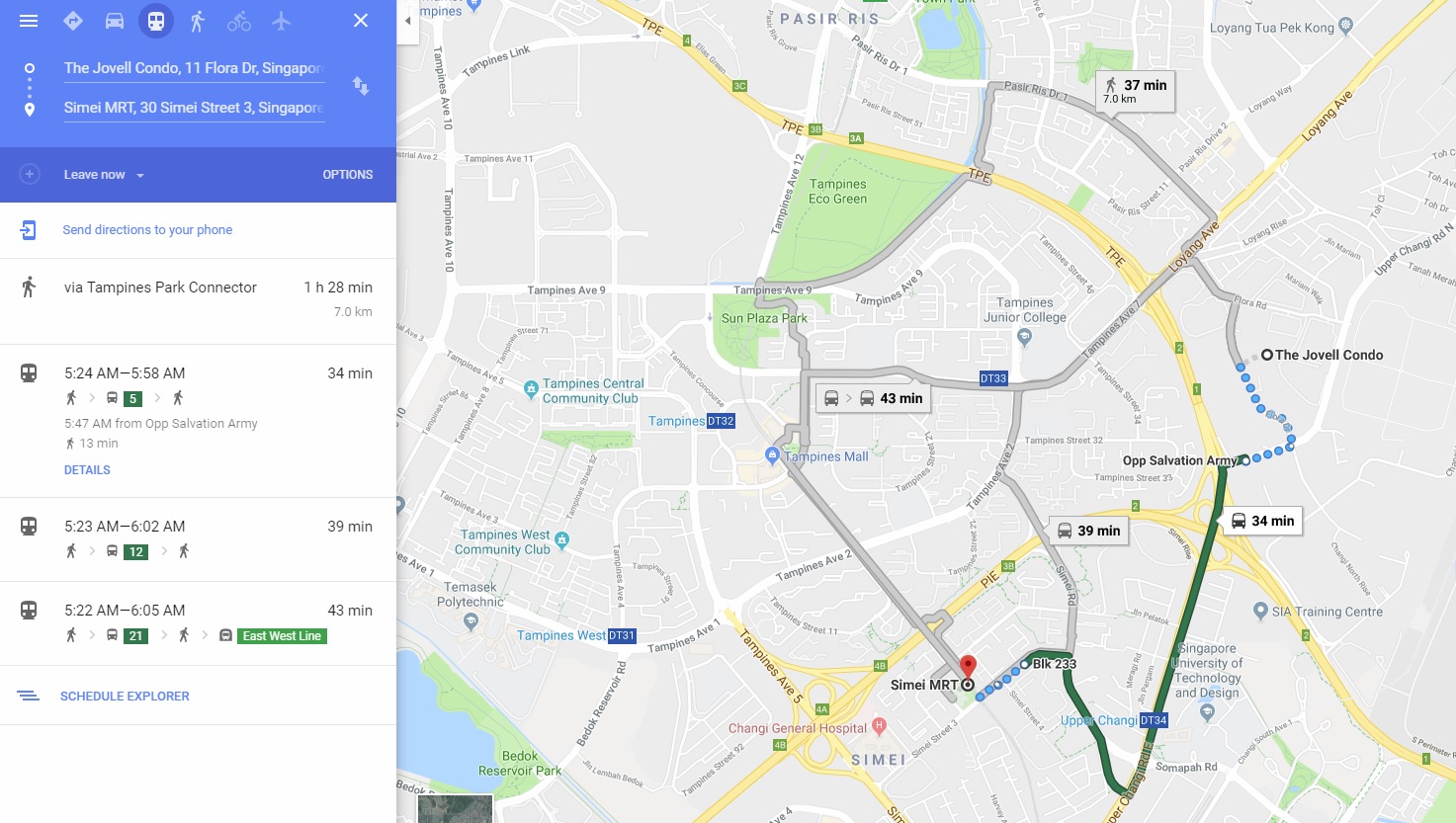 Since Tampines East is the nearest MRT station from The Jovell, let us take that MRT station as a point of reference to discuss travelling to various places.
It will take 19 minutes from Tampines East MRT Station to Bencoolen MRT Station. It will cost $1.57.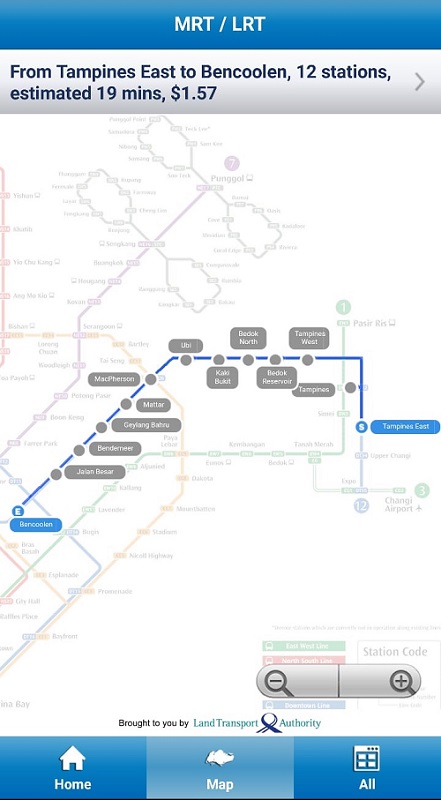 It will take 19 minutes from Tampines East MRT Station to Raffles Place MRT Station. It will cost $1.65. You will need to make some changes to other train lines during the journey. The LTA mobile app advised changing to the Circle Line and then again to the East-West Line at Paya Lebar MRT Station. I would think that perhaps you could travel directly to Simei via bus and then take a train along that line straight down to Raffles Place MRT Station if you do not want to make switches along your journey.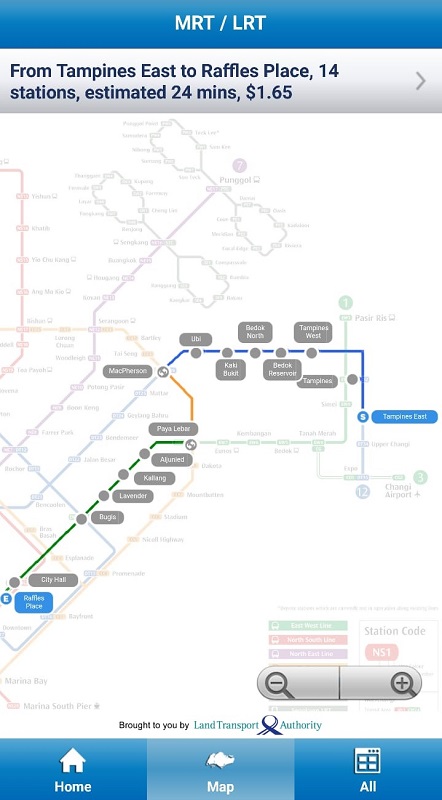 Travelling to Changi Airport would be a lot easier. It takes 10 minutes to do so and would cost $1.23.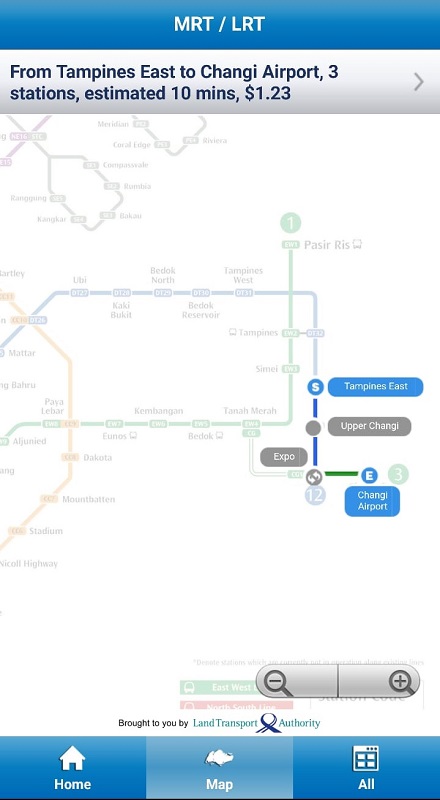 If you add up the time it takes to walk to the main road, take a bus to the MRT station and then continue the journey via train to the city centre, it would take about 1 hour to do so. Thus it is very inconvenient to get to the town if you were to live at The Jovell. However, it is extremely close to Changi Airport and Singapore Expo.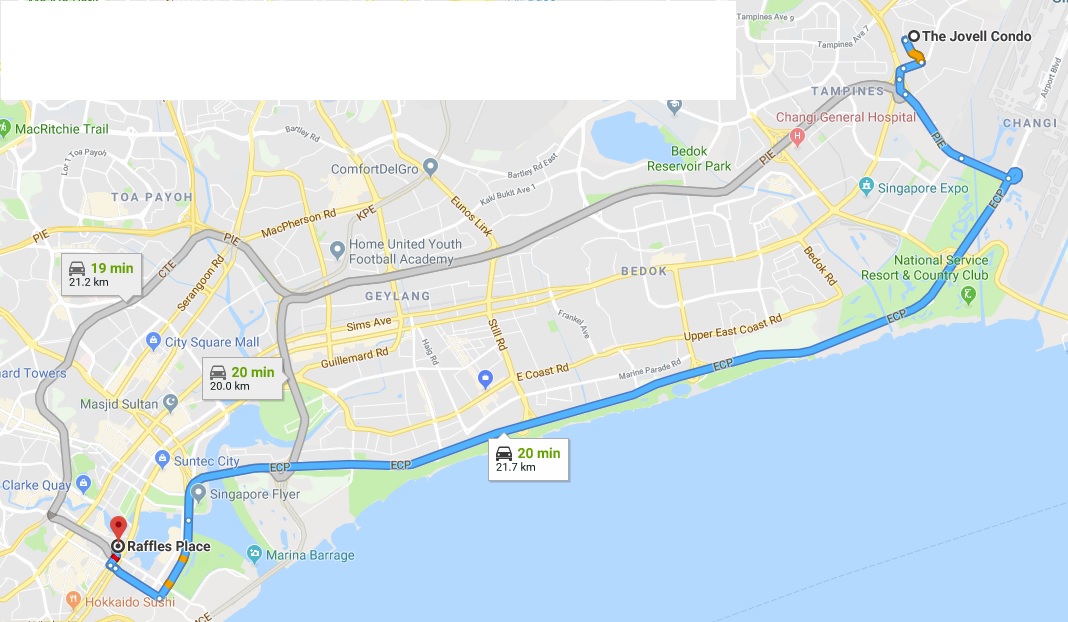 It would be more convenient to drive to town than to take public transport. The ECP makes the Central Business District (CBD) accessible. The drive as about 22 kilometres long and it takes about 20 minutes during off-peak hours. Peak hour traffic should add another 10 to 20 minutes onto that time.
The selling points about the development
The first selling point would be the reputable developer. Unlike many other developments, this condominium is being developed by a developer who has been developing condominiums in the area since the 1970s. The developer understands the buyer and tenant profile of the area and I think it shows in the unit mix of the development. More than 60 per cent of the units is 1 and 2 bedroom types with 2 bedroom units making up almost 43 per cent of the total unit mix. The bulk of the people who are going to rent are going to be people who work in the factories and offices around Changi North and also aircrew or people working in and around Changi Airport. The situation at Flora Drive is rather unique as it is not near any MRT Station, will not be a consideration for almost all tenants working in the CBD but yet there is a natural catchment area just north of this cluster of condominiums. This has been the case for the condominiums that are along Flora Road and Flora Drive for a significant period of time.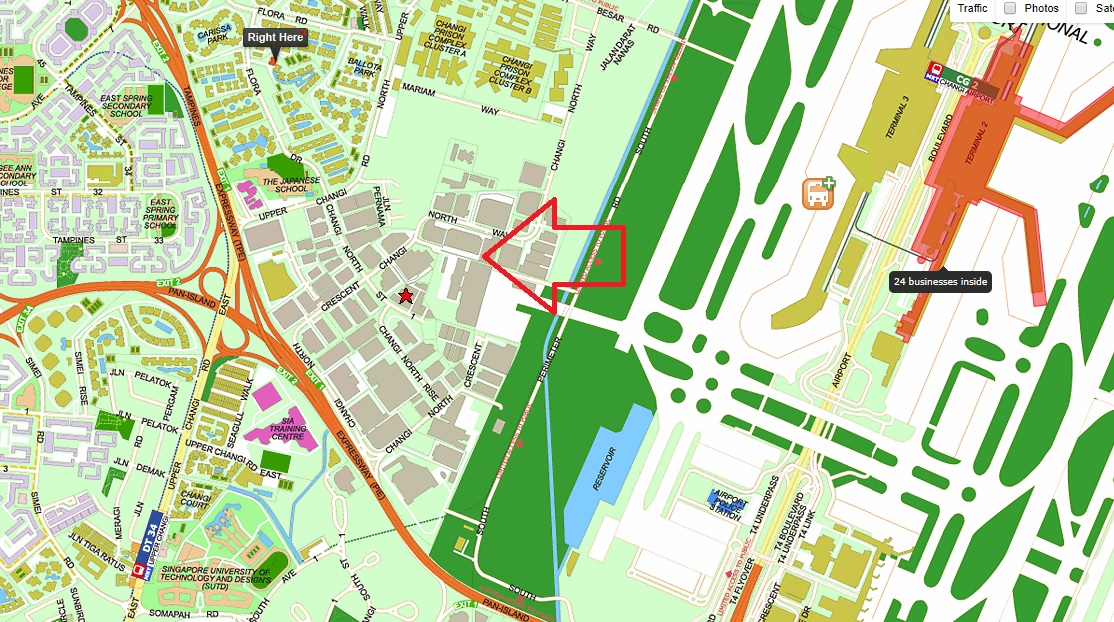 Taking a look at the Master Plan, there should not be any more major developments coming up in the area after The Jovell. The natural catchment of factories, offices and people working in and around Changi Airport should be there for The Jovell and the neighbouring developments to capture for the short to medium term. Changi Airport is continually expanding and eventually Paya Lebar Air Base will be relocating to Changi in a little more than a decade's time. I do think that demand should remain relatively healthy.
The second selling point would be the price. It is comparatively cheaper than other new launches this year. Prices for a 1-bedroom unit are indicated to start from somewhere in the $500,000++ range. However, I have always maintained that because a property is cheap does not make it a good investment. I do believe that if prices are around the low to mid $500,000 price range then that would be a rather exciting proposition for buyers.
My thoughts about the development
I find the location very poor if I were not working in close vicinity to the area. I cannot think of a good reason why any tenant other than someone working nearby, would want to rent a unit in this area. There may be some who may be attracted to the condominiums here because of the low rental rates.
Looking at the rental contracts of the neighbouring developments in the area, we can see that there are 1-bedroom units going for as low as $1,500. You could get a 1 bedroom unit for approximately $560,000 in the resale market. This works out to about 3.2 per cent gross rental yield. I am being prudent by taking the lower end of the rental contract to calculate gross rental yield. However, 3.2 per cent in today's rental market is rather decent. I do not expect much fluctuations in the supply of units coming on board after The Jovell. As mentioned before, this is a rather unique cluster of properties. The condominiums in this area serve the factories, offices and people working in and around Changi Airport.
Currently, there are 13 condominiums in the area.
Azalea Park Condo, 999- year leasehold, 316 units
Avila Gardens, Freehold, 347 units
Carissa Park Condo, Freehold, 528 units
Dahlia Park Condo, Freehold, 299 units
The Gale, Freehold, 329 units
Estella Gardens, Freehold, 350 units
Ferraria Park Condo, Freehold, 475 units
Edelweiss Park Condo, Freehold, 517 units
Ballota Park Condo, Freehold, 365 units
Palm Isles, 99-year leasehold, 429 units
Park Olympia, 99-year leasehold, 482 units
The Inflora, 99-year leasehold, 396 units
Hedges Park, 99-year leasehold, 501 units
There are a total of 5,334 units in the area. The Jovell will add 429 units to the available housing stock in the area. That is an increase in the supply of about 8%. Out of all the developments that are being launched this year, The Jovell seems to be the one with the least uncertainty in terms of future rental demand due to possible oversupply in the area. I personally do not think that the rental rates will veer far off from what is being transacted currently.
My concern is the availability of 999-year leasehold and freehold properties in the area. The Jovell will be one of five 99-year leasehold condominiums and there will be eight freehold condominiums and one with 999-year leasehold status. This may affect the ability to sell in the future as increasingly, more buyers are starting to differentiate between freehold and leasehold properties. Especially when the property market is less buoyant.
The Jovell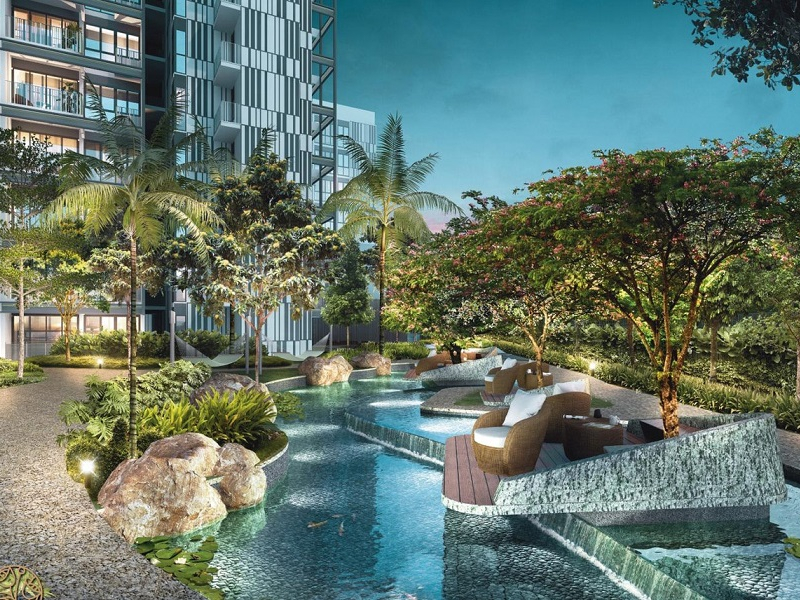 Pricing 3/5
Indicative pricing should be hovering around $550,000 which should be rather attractive if someone is looking for a brand new property in the east. That being said, cheap does not mean a property is a good buy. The Jovell is a 99-year leasehold condominium surrounded by freehold developments. With the public increasingly aware about the value of 99-year leasehold properties especially with the recent debates about HDB flats and their leasehold status, I would expect freehold properties to hold their value better than 99-year leasehold properties in the long run. Currently, you can still find 99-year leasehold Park Olympia units being transacted for more than $1,000 per square foot because it is newer. Hedges Park Condominium is 2 years older than Park Olympia and it is going for less than $1,000 per square foot already. Newer 99-year leasehold properties do have strong resale value but once they get older, their value tends to precipitate. Just a point to note, you can actually get freehold units for less than $900 per square foot in this area.
Location 3/5
If it were not for the catchment area just north of The Jovell, this rating might have been much lower. If you are looking to stay in this area and work in the CBD, your commute to work may become a source of daily frustration. However, if you work at the offices nearby, The Jovell will be an extremely attractive property to you. The Jovell and the surrounding condominiums are in a very unique situation. The residents of these developments are very localised. Their area of commute should be generally around the area. To the people working nearby, this is an extremely attractive place to stay. For those who are working elsewhere, this will seem like a very inconvenient location. 
I would also mention that there are no other plots of land around The Jovell that is slated for residential development. This means that the supply of condominiums should end with The Jovell unless there is an en bloc sale of one of the neighbouring developments. For this particular reason, I do think the fixed supply in this location does bode well if you intend to rent out your unit at The Jovell.
Quality 4.5/5
Tripartite Developers Pte Ltd has been developing condominiums in this area for a very long time. The Jovell is just one out of ten developments which they developed in the area. I do think that the development is well thought out and from the layouts, the individual units are well designed. The unit mix caters to the demand. There should be a healthy number of tenants working in the area and thus the good mix of 1 and 2 bedroom units. In fact, most tenants should perhaps be a single individual or two individuals sharing a unit. I particularly like the open spaces, the unique swimming pool and various landscaping features of the development. I can appreciate a developer taking time to develop project after project in the same area, thus understanding the resident mix and catering to the demand in the next development that it develops.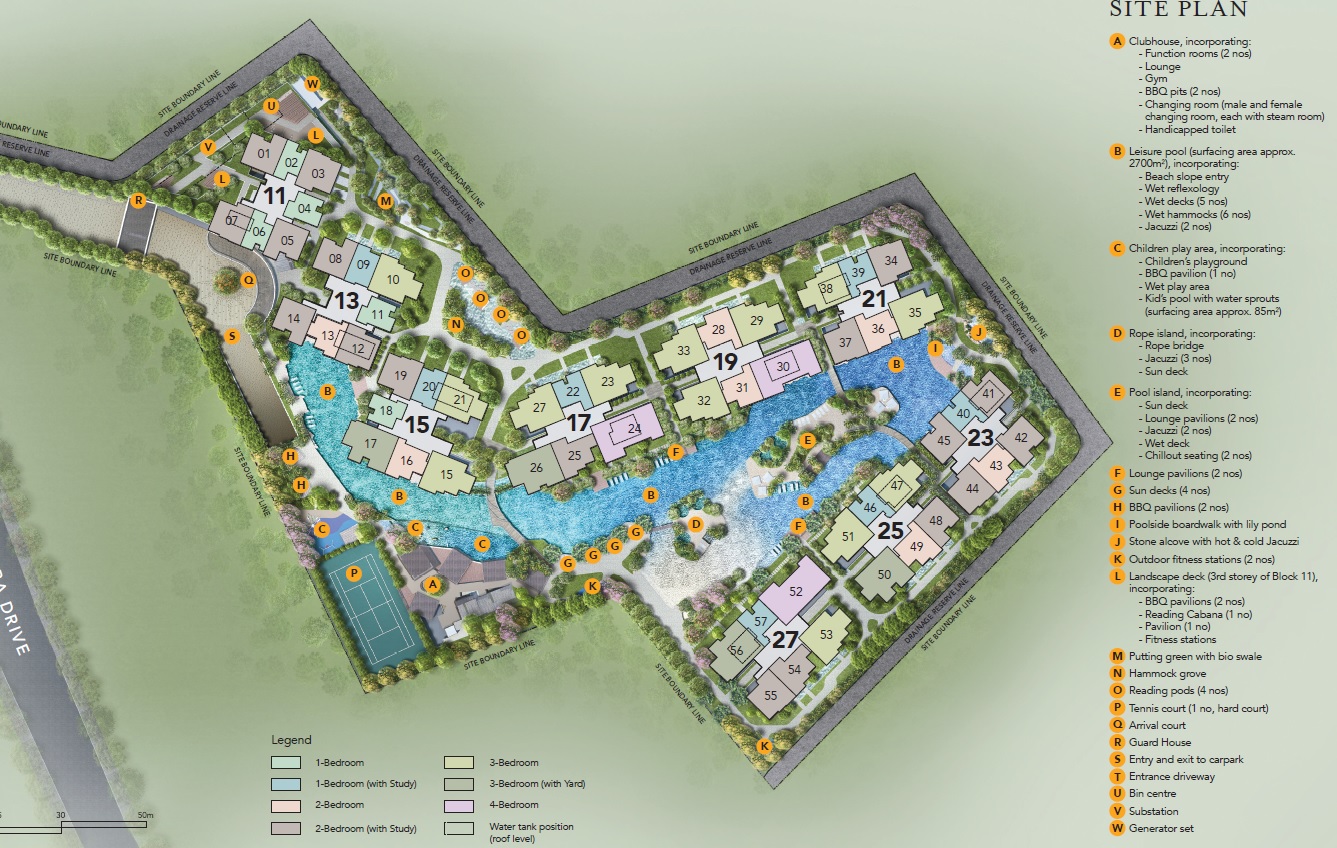 I personally would consider this development if I were in the market for a new project launch. However, if buyers do not mind an older development, they should consider the older freehold developments. Some have transacted at less than $800 per square foot, albeit the larger unit types.
Yours Sincerely,
My other Singapore Property Reviews
My review of The Avenir by Hong Leong Holdings and GuocoLand
My review of One Holland Village Residences by Far East Organisation
My review of Neu at Novena and Fyve Derbyshire by Roxy Pacific Holdings
My review of Midwood by Hong Leong Holdings
My review of Royalgreen and Juniper Hill by Allgreen Properties
My review of Sky Everton by Sustained Land
My review of Sengkang Grand Residences by Capitaland and City Developments Limited
My review of One Pearl Bank by Capitaland
My review of The Antares by FSKH Development
My review of Parc Clematis by SingHaiyi Group
My review of Piermont Grand by City Developments Limited
My review of Parc Komo by CEL development
My review of Riviere by Frasers Property
My review of Avenue South Residence
My review of 1953 by Oxley Holdings
My review of Uptown @ Farrer
My review of The Florence Residences
My review of Treasure at Tampines
My review of Fourth Avenue Residences
My review of The Woodleigh Residences
My review of Kent Ridge Hill Residences
My review of Arena Residences
My review of Whistler Grand and Twin Vew
My review of Mayfair Gardens and Daintree Residence
My review of Parc Esta
My review of Jui Residences
My review of The Jovell
My review of JadeScape
My review of Stirling Residences and Margaret Ville
My review of The Tre Ver and Riverfront Residences
My review of Park Colonial
My review of Affinity at Serangoon and The Garden Residences
Disclaimer: My agency is the marketing agent for The Jovell and I can earn a commission if I bring a potential buyer to buy a unit at The Jovell. However, in my writing of my property reviews, I have always maintained a balanced and neutral view, pointing out the potential advantages and disadvantages of the various new project launches. I write my reviews from the viewpoint of a potential property buyer and not as a property agent. My purpose for this review is to share my thoughts and my research about the project with potential buyers to aid them in their buying decision.
P.S. You can reference The Jovell floor plans here. 
P.P.S. I have just started a YouTube Channel and I will be uploading weekly videos explaining the various investment terms and jargon which may come in handy for some. Do consider subscribing to my YouTube Channel for useful investment content videos. You can access my YouTube Channel here.