Midwood is the latest in a string of new project launches that are coming on to the market. Located just next to The Hillier, a development which I was involved in a couple of transactions, Midwood does have some interesting attributes and potential challenges for would-be property investors.
Details about the development
Midwood is a 99-year leasehold development by Hong Leong Holdings. The site is located along Hillview Rise and occupies an area of 153,881.94 square feet. Back in July 2018, Hong Leong Group, under its subsidiaries Intrepid Investments and Garden Estates, submitted the winning top bid of SGD$460 million for the site in a government land sale exercise. Hong Leong Group beat out nine other concept proposals from eight tenderers and it was the winning proposal from a shortlist of six. According to the Urban Redevelopment Authority (URA), Hong Leong Group's winning proposal included "the extensive adoption of Prefabricated Prefinished Volumetric Construction (PPVC) with substantial layout modularization and high levels of construction integration in carrying out the development of the site" and this was one of the reasons that the site was awarded to them. The development is expected to be completed in September 2034. There will be a total of 564 units and the development includes a Childcare Centre. Here are the unit types:
1 bedroom, 484 to 495 square feet, 116 units
1 bedroom, 549 square feet, 56 units
2 bedroom, 635 to 700 square feet, 170 units
2 bedroom + study, 775 to 786 square feet, 54 units
3 bedroom, 893 to 904 square feet, 54 units
3 bedroom + yard, 990 square feet, 56 units
4 bedroom, 116 to 117 square feet, 58 units
Where is the development located?
Midwood is located along Hillview Rise. It is located next to The Hillier and HillV2 mall and opposite Kingsford Hillview Peak. Just north and west of Midwood is Hillview Camp and that is where the Ministry of Defence MINDEF building is situated.
The walk to Hillview MRT Station according to Google Maps will take about 5 minutes and the distance covered will be about 450 metres. However, I realised that Google Maps does not currently give an accurate depiction of the location of Midwood. I would estimate that it is located about another 100 metres away and will take perhaps another additional minute to get to Hillview MRT Station. The walk is generally unsheltered as you are walking along the pathways next to the neighbouring condominiums.
If you are travelling to Orchard MRT Station from Raffles Place MRT Station, it will take you 21 minutes across 11 stations and it will cost you $1.59. You will need to make a changes to get to the North-South Line or the East-West Line. I would think that making a change at Bugis MRT Station would be more direct than the one which the LTA mobile app query gave me as it would mean making only one change instead of two.
If you are travelling to Orchard MRT Station from Hillview MRT Station, it will take you 15 minutes across 8 stations and it will cost you $1.47. You will need to make a change at Newton MRT Station to get onto the North-South Line.
If you are driving to Raffles Place, it will take you 27 minutes and the distance travelled will be approximately 23.2 kilometres. My Google Maps query was done in the middle of the day so if you are travelling during the usual peak hours, do factor in some additional time.
If you are driving to Orchard Road, it will take you 17 minutes and the distance travelled will be approximately 12.4 kilometres. The optimal route would be to take the BKE and switch over to the PIE and exit via Stevens Road.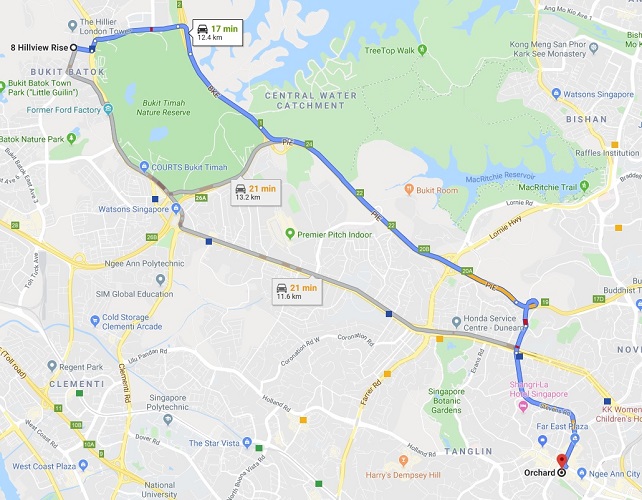 The drive to Orchard Road from Midwood

The selling points of the development
It is rather close to Hillview MRT Station which is along the downtown line. The downtown line is rather efficient at bringing people to the city centre. Hillview MRT Station is one station away from Beauty World MRT Station, two stations from King Albert Park and three stations from Sixth Avenue MRT Station. If you were to look at new launches close to Sixth Avenue MRT Station, it would cost you in the region of $2,700 to $2,800 per square foot (psf) for a unit in that area (i.e. Fourth Avenue Residences and Royal Green). Midwood prices start from above $1,500 psf which is significantly lower just to live three MRT stations away. In contrast, transaction prices for The Hillier range from $1,274 psf to $1,542 psf.
Kingsford Hillview Peak, which is just opposite Midwood, has transactions in the last year ranging from $1,345 to $1,461 psf. If you consider these prices in the resale market, Midwood is not priced too much higher than the resale market.
My thoughts about the development
I do think that this development is more suited for those looking for their own occupation. There is a huge deluge of condominiums in the area and I do think that it will be challenging to attract tenants as there are so many choices in the area. That being said, if you must buy in this area, proximity to Hillview MRT Station is important. The five closest developments to Hillview MRT Station are Glendale Park (the nearest), Hillview Park and Hillview Heights, The Hillier, Midwood and Kingsford Hillview Peak.
Midwood
Pricing 3/5
As mentioned before, I do think that prices are rather elevated. It would be wise for buyers to step back and think whether purchasing at today's prices, will they make a profit on their investment in the next five years. I would think that profits for most developments can only be seen after a decade. Midwood, going for in excess of $1,500 psf would not deem as an excellent value if buyers are looking to make a profit due to capital appreciation.
Location 2.5/5
I do not think that this location is extremely prime. There is little catchment area when looking for tenants. There is a lack of a decent sized shopping mall with adequate amenities as well.
Quality 4/5
Hong Leong Holdings is an extremely experienced developer with an excellent track record. The Hong Leong Group is a large conglomerate which is involved in property development, hotels, financial services among many other businesses.
Yours Sincerely,
p.s. Disclaimer: I am a licensed real estate salesperson at the point of writing this review. My real estate agency is the marketing agency for Midwood. Buyers can approach me to purchase Midwood and I will earn a commission from the developer. My reason for writing this review is to share my personal view about the developments not as a real estate salesperson but in the neutral context of a buyer and hopefully share some insight to help buyers make a more informed buying decision.
My other Singapore Property Reviews
My review of The Avenir by Hong Leong Holdings and GuocoLand
My review of One Holland Village Residences by Far East Organisation
My review of Neu at Novena and Fyve Derbyshire by Roxy Pacific Holdings
My review of Midwood by Hong Leong Holdings
My review of Royalgreen and Juniper Hill by Allgreen Properties
My review of Sky Everton by Sustained Land
My review of Sengkang Grand Residences by Capitaland and City Developments Limited
My review of One Pearl Bank by Capitaland
My review of The Antares by FSKH Development
My review of Parc Clematis by SingHaiyi Group
My review of Piermont Grand by City Developments Limited
My review of Parc Komo by CEL development
My review of Riviere by Frasers Property
My review of Avenue South Residence
My review of 1953 by Oxley Holdings
My review of Uptown @ Farrer
My review of The Florence Residences
My review of Treasure at Tampines
My review of Fourth Avenue Residences
My review of The Woodleigh Residences
My review of Kent Ridge Hill Residences
My review of Arena Residences
My review of Whistler Grand and Twin Vew
My review of Mayfair Gardens and Daintree Residence
My review of Parc Esta
My review of Jui Residences
My review of The Jovell
My review of JadeScape
My review of Stirling Residences and Margaret Ville
My review of The Tre Ver and Riverfront Residences
My review of Park Colonial
My review of Affinity at Serangoon and The Garden Residences