Whistler Grand and Twin Vew are located along West Coast Vale. They are located just opposite each other. Twin Vew was launched earlier this year in April and Whistler Grand will be launched later this month.
Details about the developments
Whistler Grand is a 99-year leasehold condominium developed by City Developments Limited (CDL). The development will consist of a pair of 36-storey blocks with a total of 716 units. Back in January 2018, this site along West Coast Vale was part of the reserve list and it was triggered for sale when a developer committed to a bid of at least $379.988 million, or $643.53 per square foot per plot ratio (psf ppr). Eventually, CDL emerged as the top bidder for the site with a bid of $472.4 million or $800 psf ppr. The winning bid was at the top end of what analysts had expected for the 19,591.5 square meter site and it clearly showed the bullish nature of the property market in the earlier part of 2018. A significant point to note would be that CDL paid about 35 per cent higher than the $592 psf ppr that was paid for Twin Vew's plot of land. The breakeven price for Whistler Grand should be $1,250 psf and thus the average selling price should be in the range of $1,400 to $1,500 psf.
Twin Vew is a 99-year leasehold condominium developed by China Construction Development. The development will consist of two 36-storey towers with a childcare centre and two shop units. Back in February 2017, China Construction Development put in the top bid of $292 million for the 176,294 square feet plot of land. There were nine other bidders. Analysts had expected bidding prices to range from $450 psf ppr to $600 psf ppr and the winning bid by China Construction Development of $592 psf ppr was close to the top end of expectations. This was 7.4 per cent above the $551 psf ppr paid for the Parc Riviera site. However, Parc Riviera faced the Ayer Rajah Expressway while Twin Vew was seen as a better plot as it was further away from the expressway. Twin View was launched in May earlier this year before the implementation of the latest round of cooling measures. 85 per cent or 442 of the total 520 units were sold during the weekend launch. The average price of units sold was $1,399 psf.
Where are these developments located?
Twin Vew and Whistler Grand are located just opposite each other. They are both located along West Coast Vale which is a cul de sac.
The closest MRT station would be Clementi MRT Station and according to Google Maps, the time taken to walk to the MRT Station is 37 minutes and the journey travelled would be 3 kilometres. There should be a shorter way by cutting across towards Carabelle and then crossing the overhead bridge. This should cut down the journey by a bit.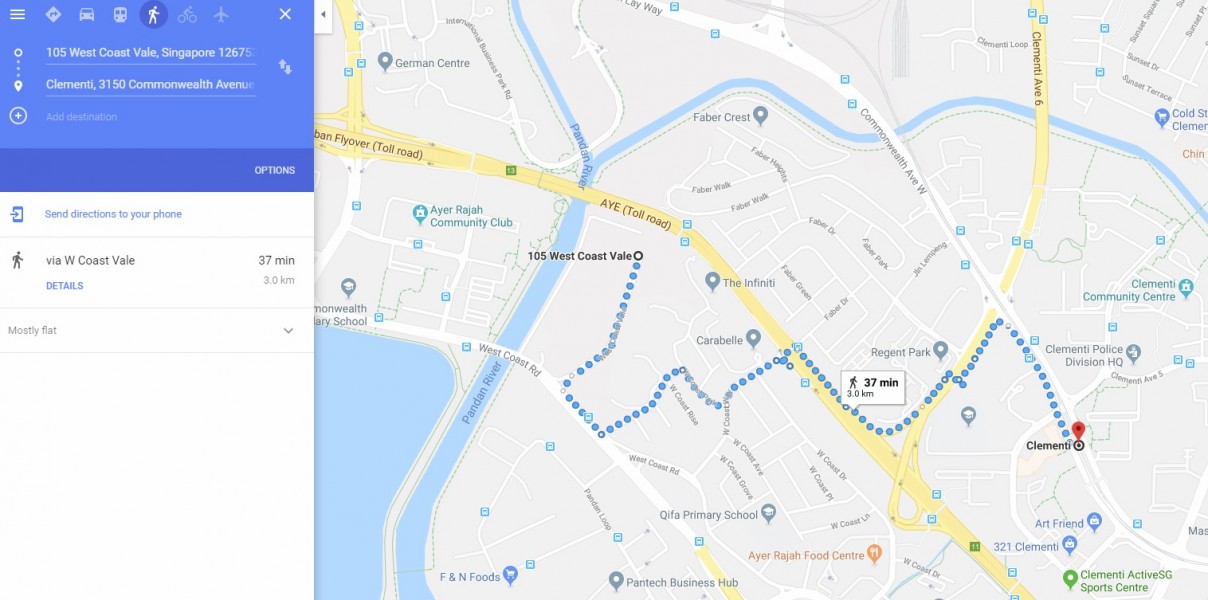 I would think that residents would be better off taking a bus to Clementi MRT Station. There are a few ways to get to Clementi MRT Station and the fastest way would be to take a bus opposite NEWest Condominium. According to Google Maps, the total journey will take 24 minutes.
The upcoming Pandan Reservoir is nearer and that is two MRT stations away from Jurong East Interchange which will be an interchange between the North-South, East-West and Jurong East MRT lines. However, Pandan Reservoir MRT Station is still some distance away and the train line is only slated for completion in 2027.
The Ayer Rajah Food Centre is 1.7 kilometres away and will take you about 21 minutes to walk there. There is also a market in that same cluster. It is a cluster of HDB shops with a market and the food centre.
Travelling to Clementi MRT Station may not be very convenient but from Clementi MRT Station, getting to Jurong East and to the city centre is rather convenient.
From Clementi MRT Station it takes just one stop to get to Jurong East MRT Station. This is perhaps where a significant number of people living in and around Clementi will be working. It will take you 4 minutes and cost $0.87.
Getting to the heart of the central business district from Clementi MRT Station is also rather quick. It takes 18 minutes to travel 9 stations from Clementi MRT Station to Raffles Place MRT Station and it will cost $1.41.
Travelling from Clementi MRT Station to Harbourfront MRT Station will take 18 minutes as well and cost $1.37.
Finally, getting to Singapore's main shopping belt Orchard Road will take you 16 minutes over 8 stations and cost you $1.37.
If you are driving to Raffles Place, it will take you 17 minutes and the distance travelled will be 15.1 kilometres. Do note that at the point of my Google Maps query, it was during off-peak hours. During peak hours, this timing can increase significantly.
The drive to Orchard Road will take you 17 minutes and the distance travelled will be 11.6 kilometres. Once again this is off-peak hour timing.
The selling point about the developments
For Whistler Grand, the main selling point would be the reputable developer. City Developments Limited is a very reputable developer with decades of experience in developing quality condominiums in Singapore. The quality and standard of their developments are very high and I personally have clients who will only purchase properties from reputable developers and CDL is one such developer.
For Twin Vew, the main selling point would be that it fronts the Sungei Pandan river. Waterfront living is rare in Singapore and units that face the river could be rather valuable in an increasingly built-up city like Singapore. Based on the URA Master Plan, the plot of land south of Twin Vew will be a school. Thus the views south of Twin Vew should remain unblocked. Just after the school will be a green space and a place of worship. Only the plot of land south of the place of worship is residential land. The distance to the next development south of Twin Vew will be rather far when that development is built up.
The location of these condominiums is rather unique. The condominiums are not the most accessible and although touted to have an impact, I personally feel that the main tenant pool would not be from the Jurong Innovation District plans (I will touch on where the potential tenants should come from later in this article). For those who are not aware, Jurong Innovation District will be in Jurong West, in the area around Nanyang Technological University (NTU). It is an industrial park of the future, envisioned by the Singapore government to encourage more innovation. Based on Google Maps, driving to NTU will take 15 minutes and the distance travelled will be 11.7 kilometres. In contrast, from my previous example, the distance travelled when driving to Orchard Road from Whistler Grand and Twin Vew is 11.6 kilometres. Thus Orchard Road is nearer or just about the same distance from Whistler Grand and Twin Vew as is NTU. Thus I find it extremely perplexing when there are buyers snapping up units in this vicinity to take advantage of the surge in probable tenants from the upcoming Jurong Innovation District.
Instead, where I think the bulk of the tenants should come from are the two business parks north-west and south of these developments. It would be good for potential buyers to note that these are huge business parks and personally from past experiences renting developments around the area, this is the main source of tenants for developments in this area. Just like The Jovell which was also inaccessible to the MRT station and amenities, the condominiums in these areas have a natural catchment area of ready tenants. The people working in these areas are the ones most likely to rent properties in this area.
In fact, the area south of these developments houses a large number of industrial buildings. This is perhaps the main source of tenants for the developments in this area.
The huge catchment area for tenants makes this an interesting proposition for buyers. If we take a look at the recent transactions at Botannia, a 2-bedroom unit rents for about $2,600 and a 3-bedroom units rents for about $3,500. A 2-bedroom unit at Twin Vew is about $1,000,000 and a 3-bedroom unit is about $1,500.000 then the gross yields are about 3.12% and 2.8% respectively.
My thoughts about the developments
Twin Vew was launched at the opportune moment. Right when sentiment for property was extremely bullish. The developer paid a high price for the plot of land. $592 psf ppr was at the high end of analysts expectations at that moment. CDL paid 35 per cent higher for their plot of land but that was indicative of the market sentiment at the point of bidding.
I personally think that there will be a lot of competition for tenants. Even though the catchment area is huge, there are many developments in the area. Currently, these are the developments that are already completed in the vicinity:
Monterey Park Condominium, 999-year leasehold, TOP in 2006, 280 units
The Infiniti, Freehold, TOP in 2008, 315 units
Carabelle, 999-year leasehold, TOP in 2009, 338 units
NeWest,  999-year leasehold, TOP in 2017, 136 units
Hundred Trees, 999-year leasehold. TOP in 2013, 396 units
Total number of condominium units in the vicinity currently: 1,465 units
Confirmed upcoming supply
Park Riviera, 99-year leasehold, TOP in 2020, 752 units
Twin Vew, 99-year leasehold, TOP in 2022, 520 units
Whistler Grand, 99-year leasehold, TOP to be confirmed, 716 units
Total number of condominium units in the vicinity that are coming into the market in the near future: 1988 units
My take is that current projected rental yields based on current rental rates against prices that Twin Vew buyers bought are already hovering around 3%. In the near future, the supply of units in the area is going to increase by 135.7%, from 1,465 units to 3,453. This is something that buyers must take note of. Moreover, the units in the vicinity are sitting on either 999-year leasehold or freehold land. Parc Riviera, Twin Vew and Whistler Grand are sitting on 99-year leasehold land.
Furthermore, based on the URA Master Plan, there is a possibility of more condominiums popping up in the future. There are two residential plots of land at the start of West Coast Vale, at the junction of West Coast Highway. These can potentially add quite a number of units to the vicinity as well.
Here are the past transactions for the 5 existing condominiums in the vicinity. There were 33 transactions in the last 6 months. The median psf is $1,332.
I have always maintained that buyers should consider options in both the new launch as well as the resale market. Based on data from URA, the resale market seems to offer better value. Of course, some of these units may be facing the Ayer Rajah Expressway and thus may be rather noisy.
Whistler Grand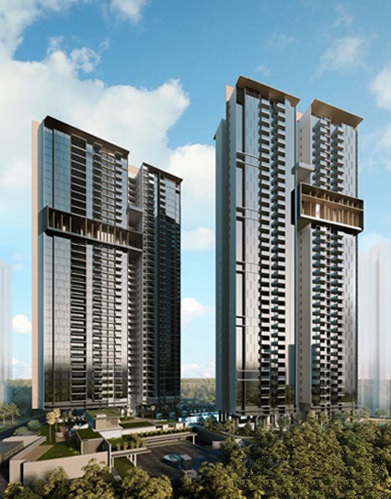 Pricing 3/5
Prices should hover around $1,400 to $1,500 psf for units at Whistler Grand. That would be in the high end of what is being transacted currently in the resale market. If not for this development being developed by CDL, this score could have been lower. Being in the real estate market for some time and I do know that CDL developments are well thought of and of high quality. You do pay a premium but then you do get a good quality development.
[UPDATE] The pricing starts at about $1,3xx psf with average prices at about $1,380 psf. I've made a slight adjustment to my pricing score from the previous 2.5/5.
Location 1/5
Travelling to and fro the development and the MRT station will be a hassle. The condominium may have shuttle service, similar to what some condominiums in the area have, to bring residents to the nearest MRT stations, bus stops or amenities. This convenience is present because of the inherent inconvenience of the location.
Quality 4.5/5
I do not give perfect scores. Thus 4.5 is just about the highest score I can give to a development. I've handled quite a few CDL developments previously, be it in the primary or secondary market. Their developments are a few notches above most developers' offerings.
Twin Vew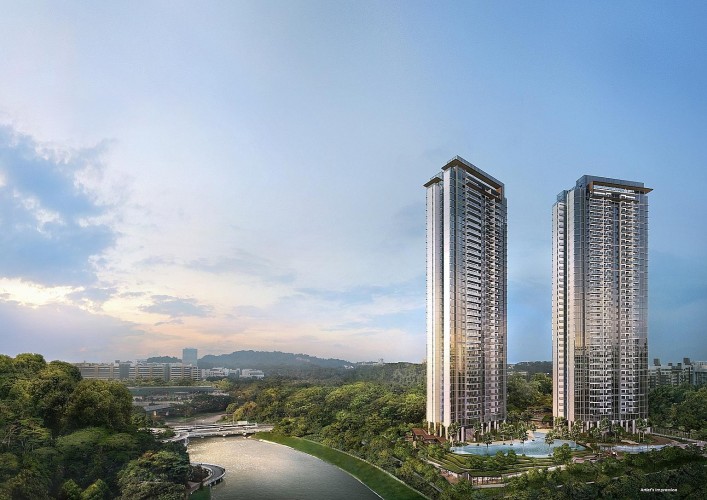 Pricing 2.5/5
Prices below $1,400 psf during the launch. This seemed reasonable at the point in time and over one weekend, 5th and 6th of May, 442 of the 520 units were snapped up, leaving a balance of 78 units. However, in the 5 months after the launch, there were 12 units sold. At the point of writing this review, 66 units were left. The cooling measures seemed to have tapered off demand tremendously. There are still units available for sale but take up rate is rather weak.
Location 2.5/5
Yes, this is just opposite Whistler Grand but as I have mentioned before in my previous review of The Tre Ver and Riverfront Residences, riverfront living in Singapore is very rare. This is the reason for the higher score. This particular plot of land in this area, in my opinion, seems to be the most optimal. Twin Vew faces the Sungei Pandan river and is away from the AYE. In fact, Parc Riviera is between Twin Vew and the expressway. The URA Master Plan shows that the plot of land south of Twin Vew will be a school. Thus those high floor views should remain unobstructed for the forseable future. If you are looking for a nice place to live in the West Coast area, Twin Vew is an attractive proposition.
Quality 2.5/5
China Construction Development is a decent developer. They have an extensive development portfolio. They have done numerous HDB projects as well as notable condominiums like Double Bay, Mon Jervois, The Shore Residences, The Hillier, One KM and many others. The quality of their developments tend to feel a little mass market. They are not a bad developer just that they are not one of the best.
I feel that rents may be depressed even further once all the supply comes onto the market. This is something that buyers who are looking to buy to rent out must take into consideration. Twin Vew has a unique factor as it faces the river. As for Whistler Grand, it is a CDL project. The quality and thoughtfulness of the layout and feel of the development will be second to none. I do sincerely feel that Whistler Grand, being a CDL development, will be the most impressive development in the vicinity. Twin Vew was launched at a higher average price of $1,399 per square foot as compared to Whistler Grand's price of $1,380 per square foot. I personally find it attractive that the CDL project is priced lower than the one from China Construction Development. With median resale prices hovering around $1,332 per square foot, CDL's average launch price of about $1,380 per square foot represents a very slight premium over the resale market. In fact I believe this is the lowest premium as compared to any other project which I have reviewed so far. If buyers are looking to purchase a unit in this area, based on price and developer reputation, Whistler Grand seems like a decent proposition.
p.s. Disclaimer: I am a licensed real estate salesperson at the point of writing this review. My real estate agency is the marketing agency for both Whistler Grand and Twin Vew. Buyers can approach me to purchase Whister Grand and Twin Vew and I will earn a commission from the developer. My reason for writing this review is to share my personal view about the developments not as a real estate salesperson but in the neutral context of a buyer and hopefully share some insight to help buyers make a more informed buying decision.
Yours Sincerely,
My other Singapore Property Reviews
My review of The Avenir by Hong Leong Holdings and GuocoLand
My review of One Holland Village Residences by Far East Organisation
My review of Neu at Novena and Fyve Derbyshire by Roxy Pacific Holdings
My review of Midwood by Hong Leong Holdings
My review of Royalgreen and Juniper Hill by Allgreen Properties
My review of Sky Everton by Sustained Land
My review of Sengkang Grand Residences by Capitaland and City Developments Limited
My review of One Pearl Bank by Capitaland
My review of The Antares by FSKH Development
My review of Parc Clematis by SingHaiyi Group
My review of Piermont Grand by City Developments Limited
My review of Parc Komo by CEL development
My review of Riviere by Frasers Property
My review of Avenue South Residence
My review of 1953 by Oxley Holdings
My review of Uptown @ Farrer
My review of The Florence Residences
My review of Treasure at Tampines
My review of Fourth Avenue Residences
My review of The Woodleigh Residences
My review of Kent Ridge Hill Residences
My review of Arena Residences
My review of Whistler Grand and Twin Vew
My review of Mayfair Gardens and Daintree Residence
My review of Parc Esta
My review of Jui Residences
My review of The Jovell
My review of JadeScape
My review of Stirling Residences and Margaret Ville
My review of The Tre Ver and Riverfront Residences
My review of Park Colonial
My review of Affinity at Serangoon and The Garden Residences
P.S. You can reference the Whistler Grand floor plans here. 
P.P.S. You can reference the Twin Vew floor plans here. 
P.P.P.S. I have just started a YouTube Channel and I will be uploading weekly videos explaining the various investment terms and jargon which may come in handy for some. Do consider subscribing to my YouTube Channel for useful investment content videos. You can access my YouTube Channel here.